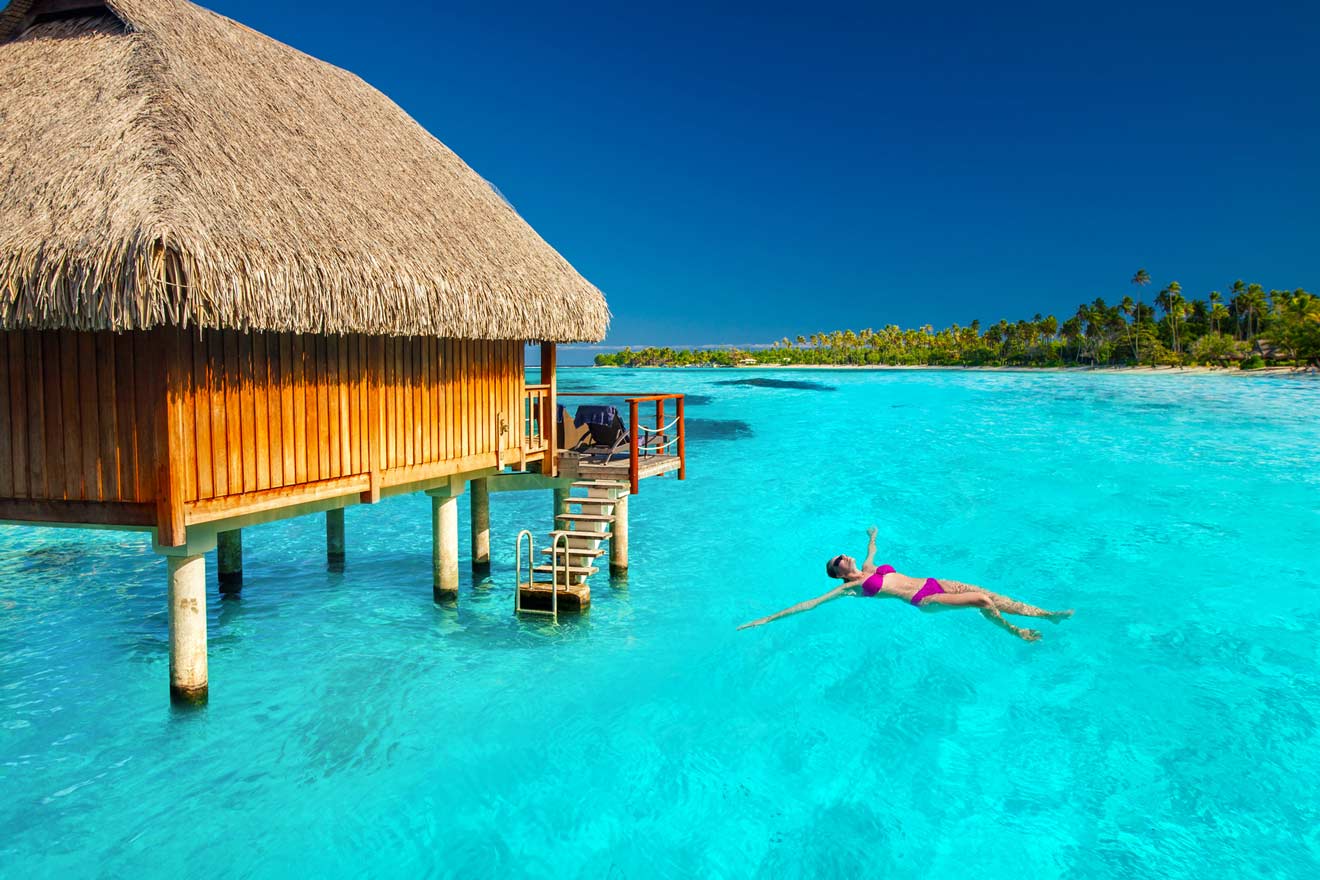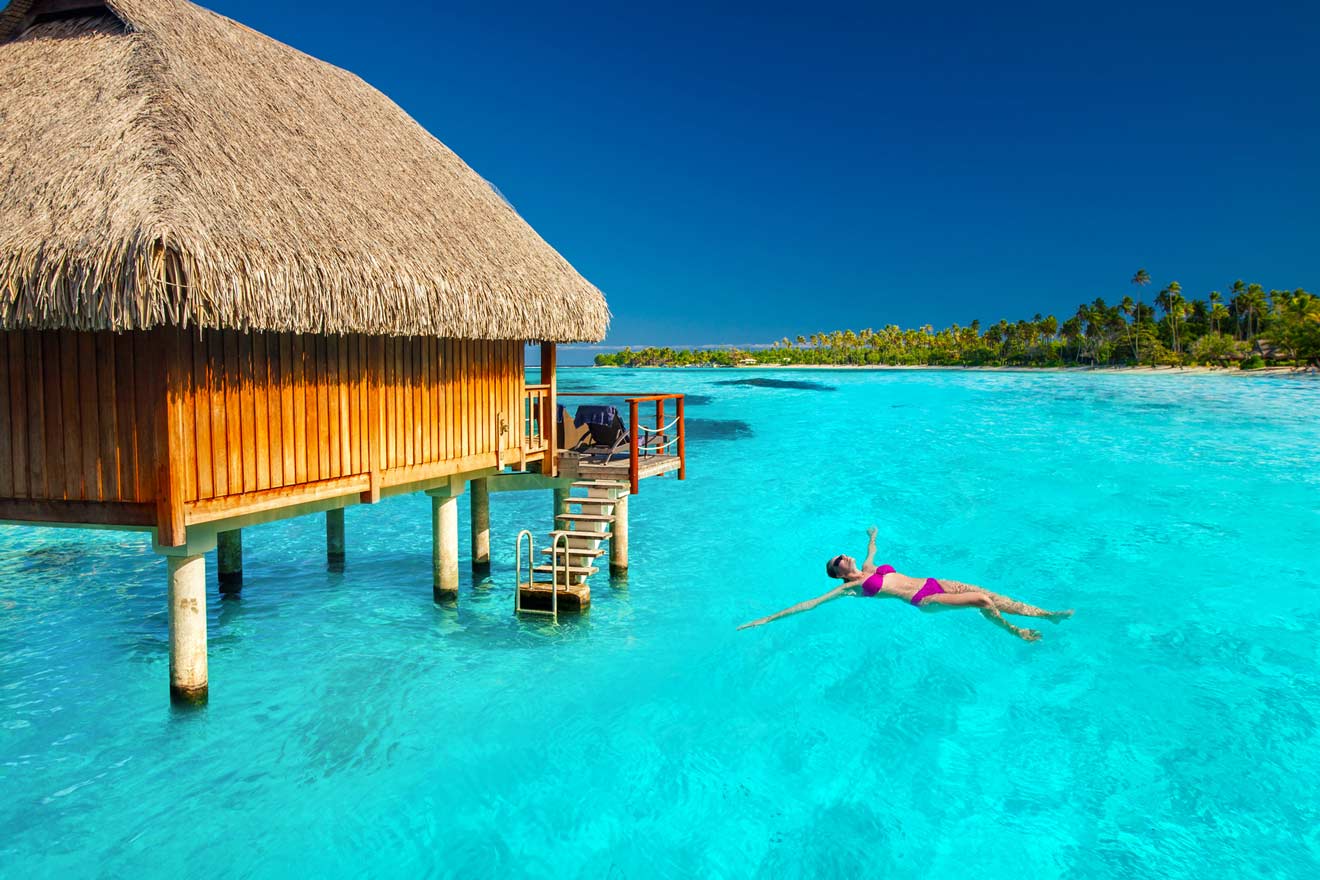 Hola everyone! Who's missing the sunshine, the beach and swimming in turquoise water? I'm sure we all do! But you're about to embark on the most exciting trip of your life in the Caribbean islands and I'm so excited to offer you a list of the most amazing overwater bungalow resorts!
In this post you'll find a list of the best overwater bungalows in the Caribbean, which I hand-picked so that you can have the ones with the awesome reviews and listed in order from most to least expensive.
But make sure you don't leave right after because I've also prepared a short list of the best Caribbean overwater bungalows for couples! Oh yes, there's nothing like a romantic getaway in deluxe overwater lagoon suites in a lush paradise, so get ready for an unforgettable trip!
As you'll notice, unlike other hotel lists, this one isn't so long! That's because there aren't so many Caribbean overwater bungalows which have great reviews and all the other verified perks. So if you find "the one" make sure you snatch it and book it super fast, especially if it has cool features like infinity pools or a personal butler. Those always disappear in a second!
Well, I think we're ready to start our search in the Caribbean Sea! Let's embark on this ship already!
If you are in a hurry
Not really in the mood to go through the whole post? Don't worry, I've prepared a list of the best Caribbean overwater bungalows just below:
Location, location, location! Now it's super important to know where all these bungalows in the Caribbean are, so check out the map below:
1. Rosewood Mayakoba – beachfront resort with a spa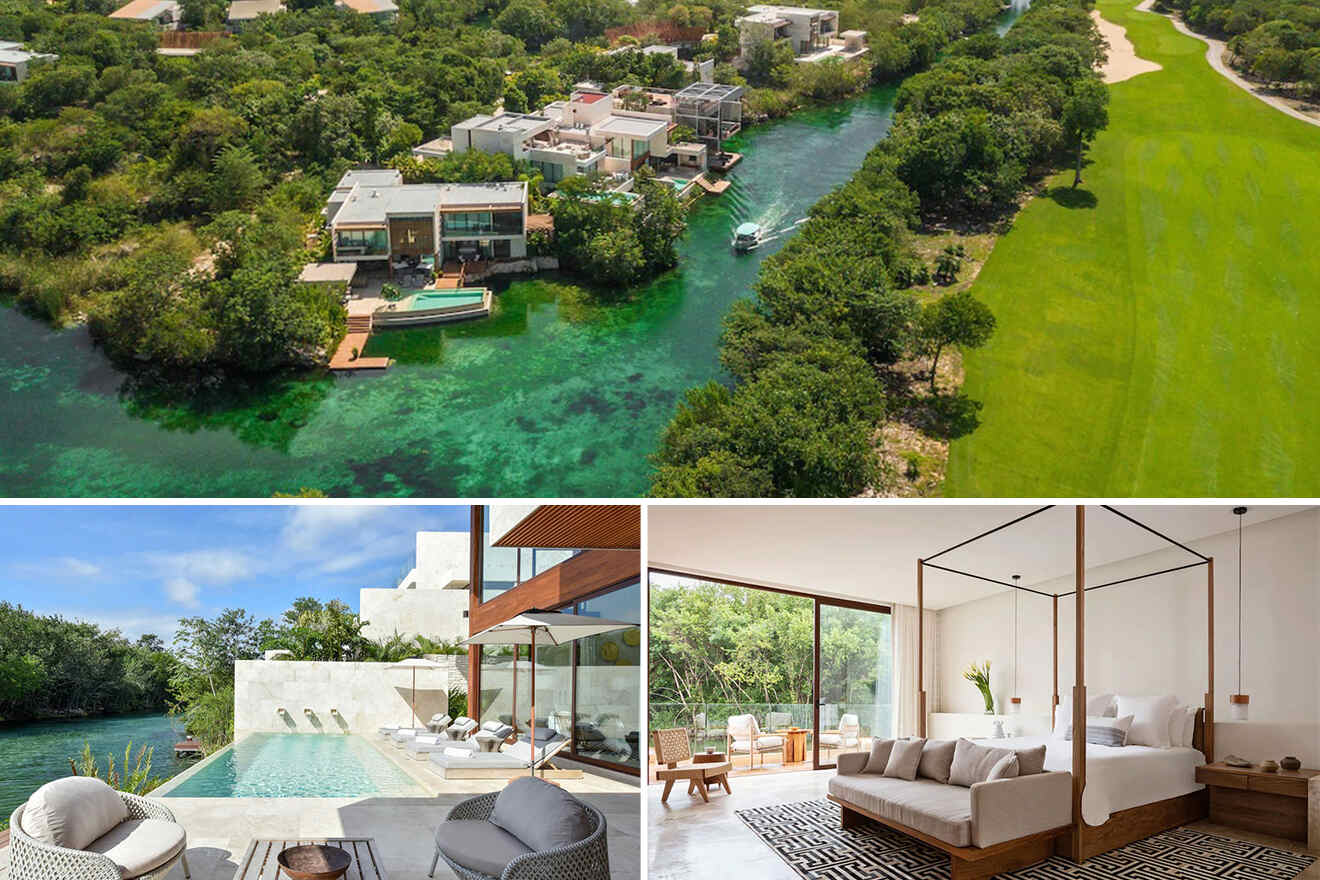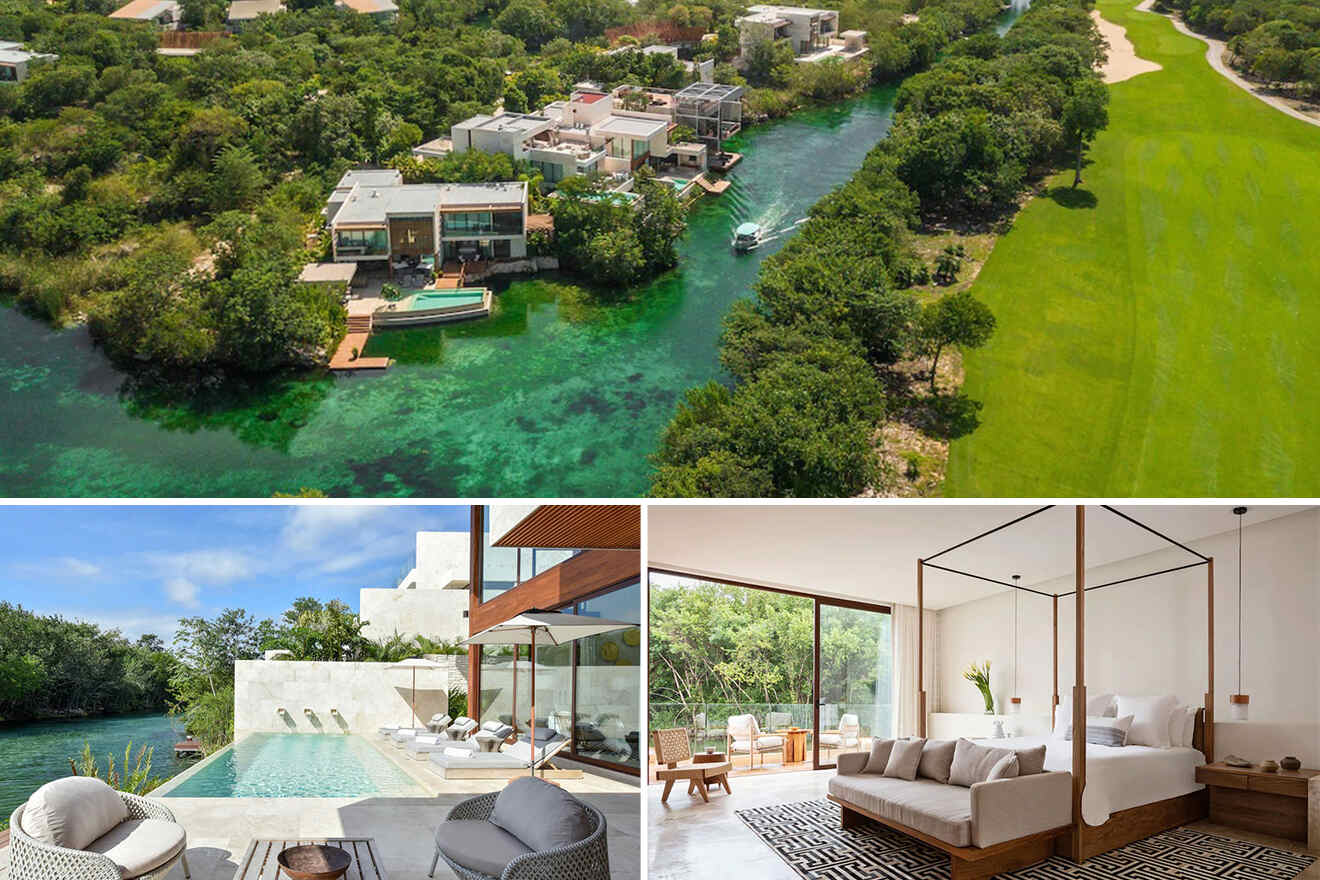 If there was an award for the fanciest overwater bungalows this beachfront resort would definitely win it! Located in Playa del Carmen, Mexico this hotel offers deluxe overwater lagoon suites that have such a great style! Plus many facilities that will make you want to move there! Nestled over a serene lagoon, your private villa comes with a furnished patio and amazing views.
When you're not out sunbathing under the Mexican sun on the white sand beaches, enjoy a full day of pampering at the spa center. Soak up in a private plunge pool, enjoy some body treatments and let your worries melt in the sauna. Then you can stretch your relaxed muscles in a yoga class on-site or play some tennis. There are also free bikes to rent from the resort if you want to explore around!
2. Akalki – overwater bungalows with private patios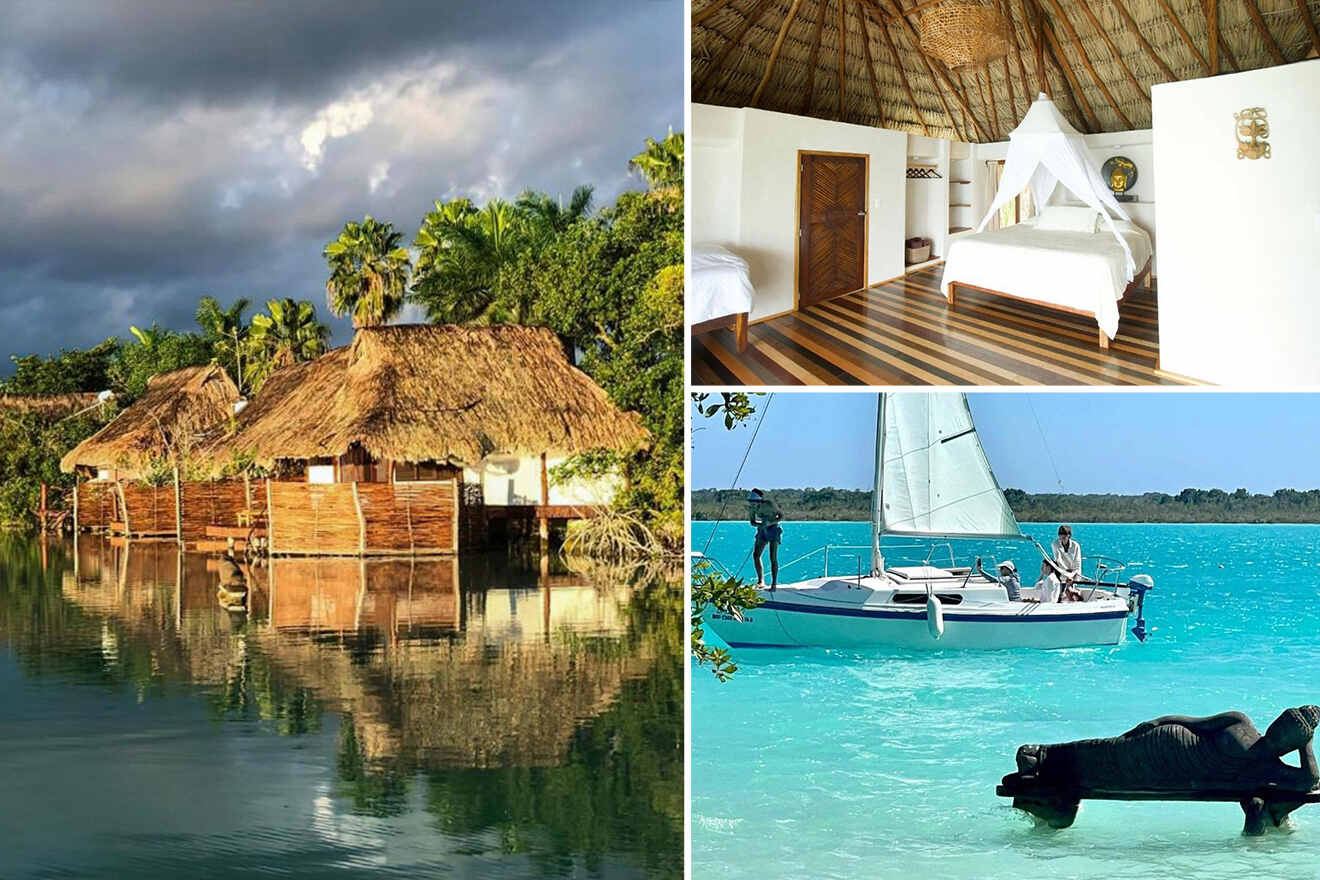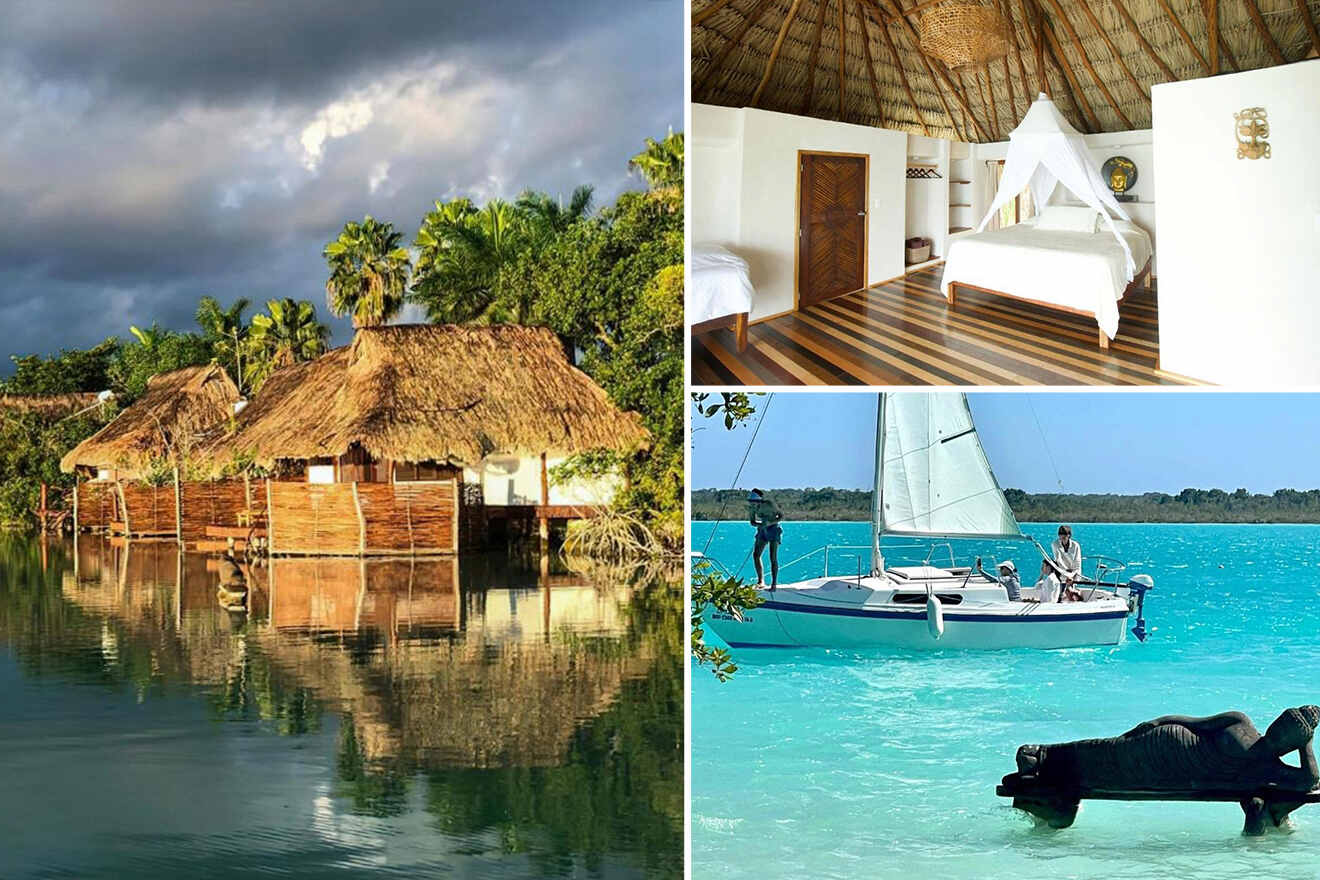 Leave behind you all the city noise and get ready for a holiday filled with fresh air, yoga classes and great food! Located in Bacalar, Mexico this accommodation offers overwater bungalows with a simple yet super stylish decor. Each bungalow has a private terrace, and a bathroom.
Start your morning with a coffee on your private deck, while admiring the beautiful river views and then get ready for a class of yoga! And you know what goes perfectly after that? A shower and then some time at the spa! Massages, facials, you name it! You'll find lots of treatments here. And when you're ready to check out some sites here, ask the staff about their tours, they offer some really cool ones.
3. Sandals Royal Caribbean – bungalows with a glass-floor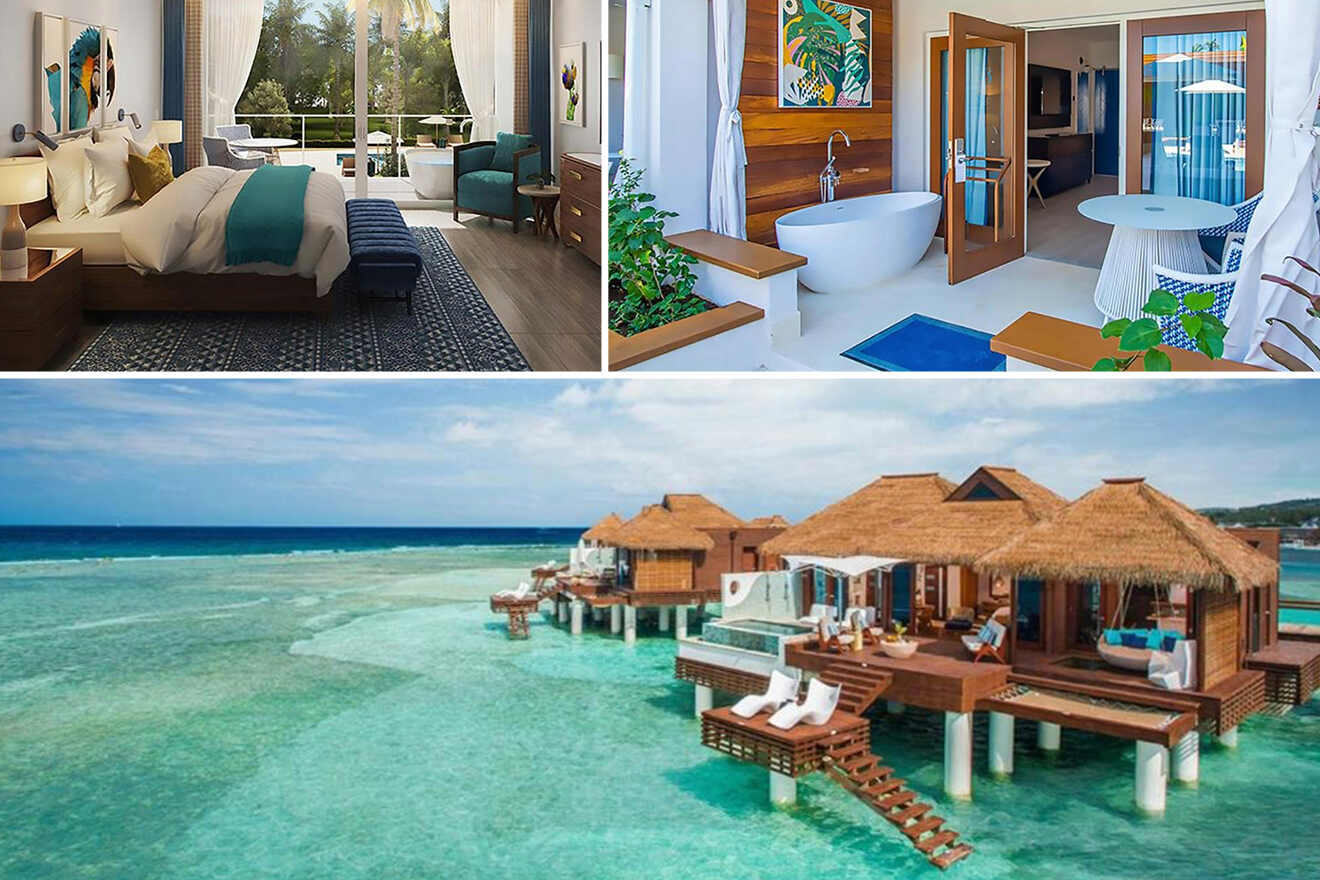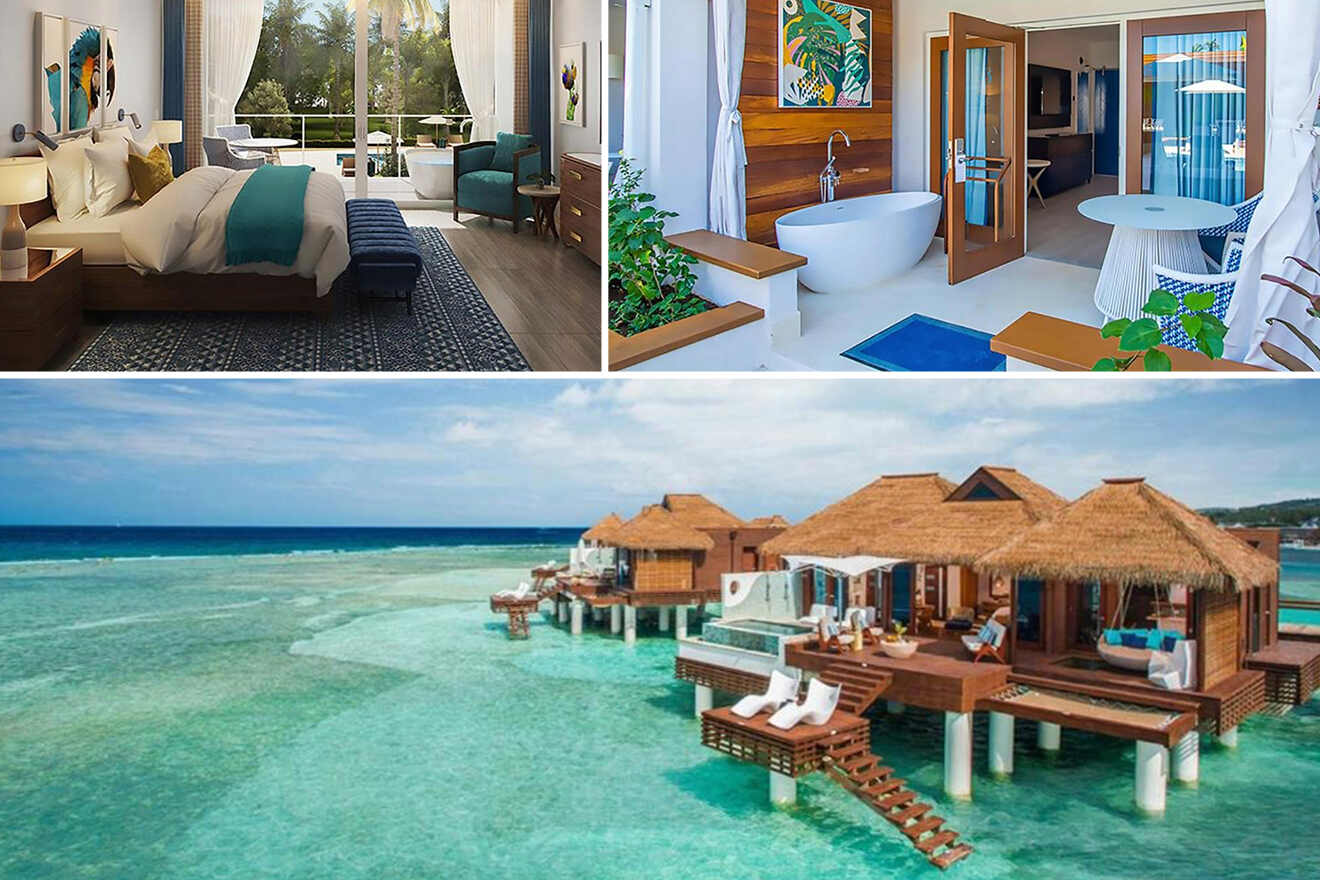 Welcome to the first overwater bungalow opened in the Caribbean sea! This Jamaican bungalow resort has 9 restaurants (one for each day of your stay) and lots of other amazing facilities! Set in Montego Bay, Jamaica the overwater bungalow accommodations feature light up glass floor panels inside and spa-style bathrooms!
And that's not it, get ready to chill in your over-the-water hammock all day long and admire the amazing views of Montego Bay, and if you need to cool off the outdoor shower is there at your disposal all day long. Each guest in the overwater bungalows will have a butler service at their disposal and also private water taxis!
4. Thatch Caye Resort – private island bungalows with a spa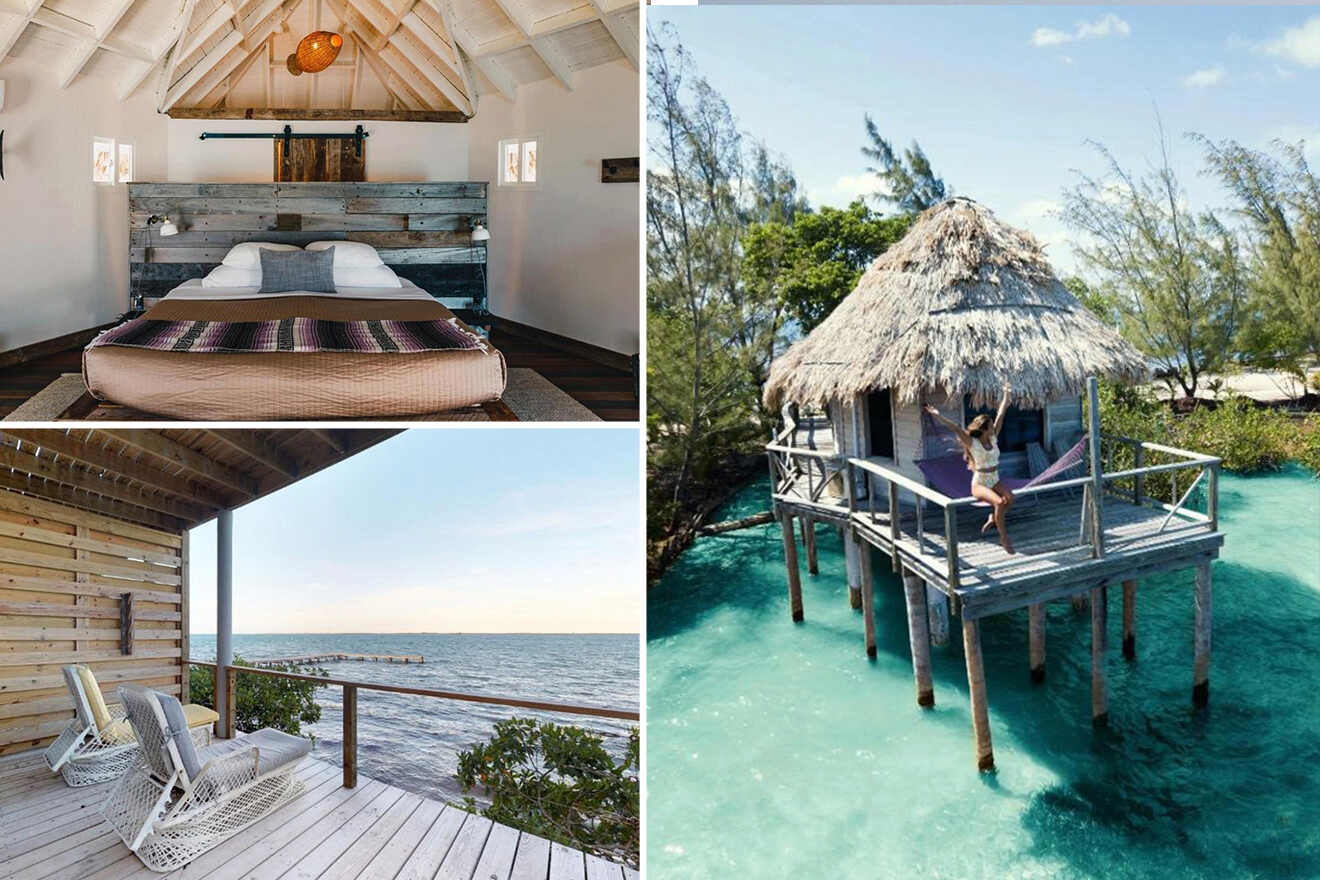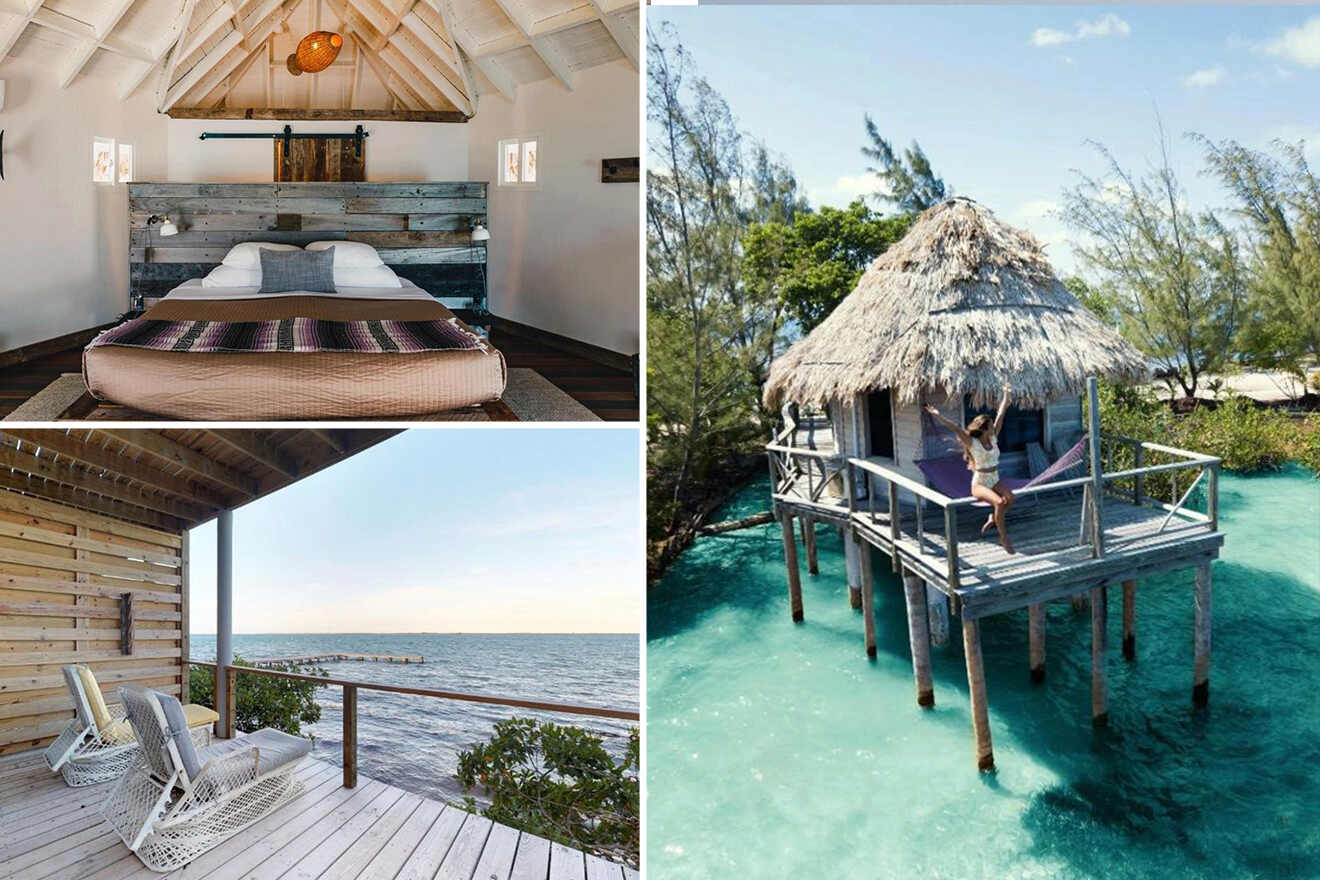 Ready for a holiday of relaxation in one of the most beautiful places in the world? You'll love these bungalows in the Caribbean! Set in Belize on a private island, the resort offers bungalows with private terraces, tiled floors, and roof-top decks. And if you're looking for more unique destinations in the Caribbean Sea, Punta Cana or Havana are definitely a must!
Leave your overwater villa in the morning and head over to grab breakfast at one of the 2 restaurants on-site. Then you can plan a day full of activities! They offer lots of stuff such as tours, snorkeling, diving, canoeing and others. So many things to keep you busy as a bee! And of course you can wrap up on a day filled with exercise with some spa time!
5. St. George's Caye Resort – farm-to-table restaurant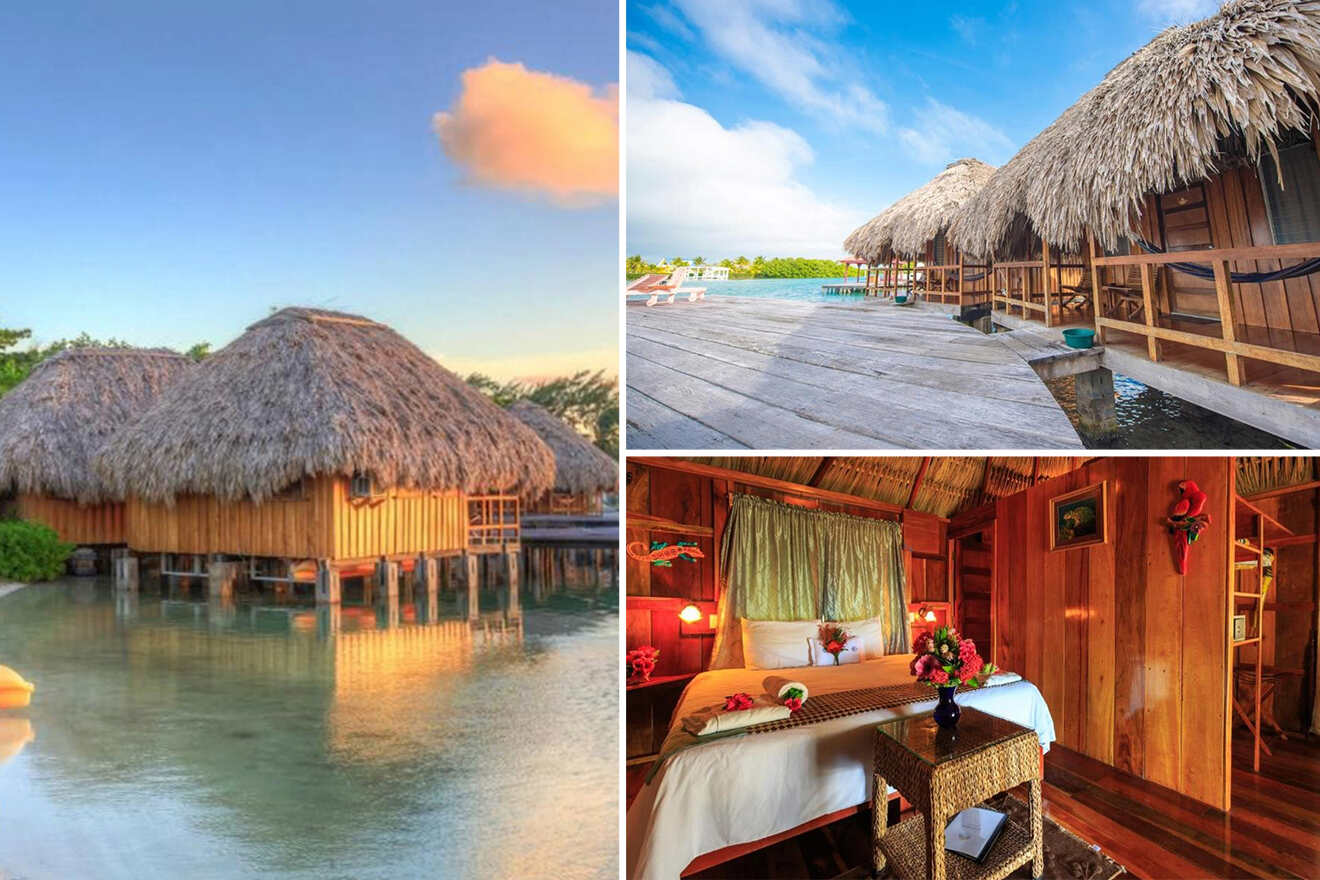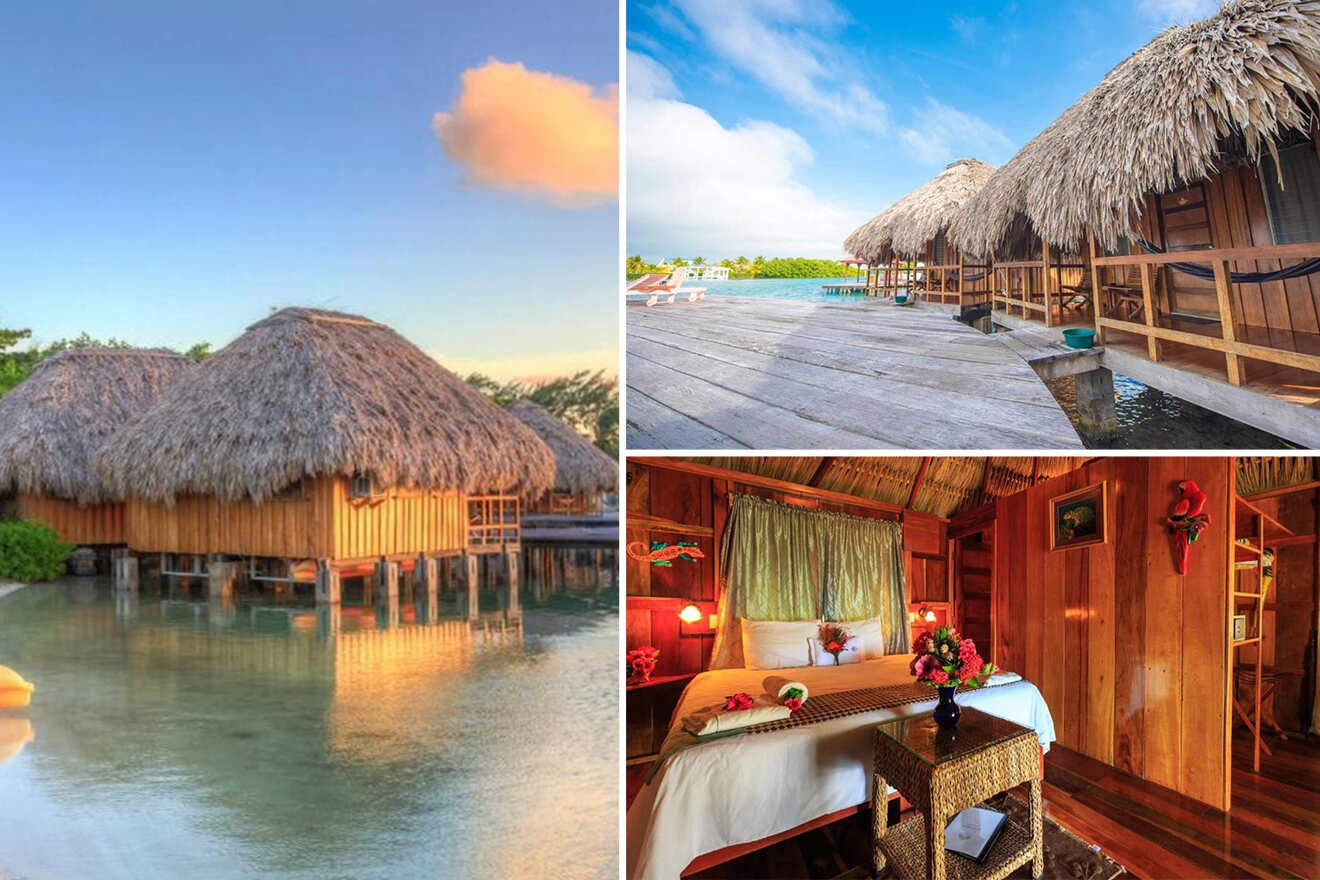 If private island resorts are more to your liking, then check out this one which is set in Belize. There are only 12 overwater bungalows, which is perfect for anyone who wants more privacy. The oceanfront over-the-water villas come with overwater hammocks and thatch roof with natural flow-through ventilation.
I'm sure you'll enjoy the farm-to-table experience they offer. The food is absolutely delicious and they serve traditional Belizean, Caribbean, and Latin cuisine as well as European and American. During the day you can chill by the pool, and try different activities like snorkeling, windsurfing and diving. So pack lots of swimsuits, your sunscreen and get ready for an unforgettable holiday!
6. Coco Plum Island – all-inclusive overwater bungalows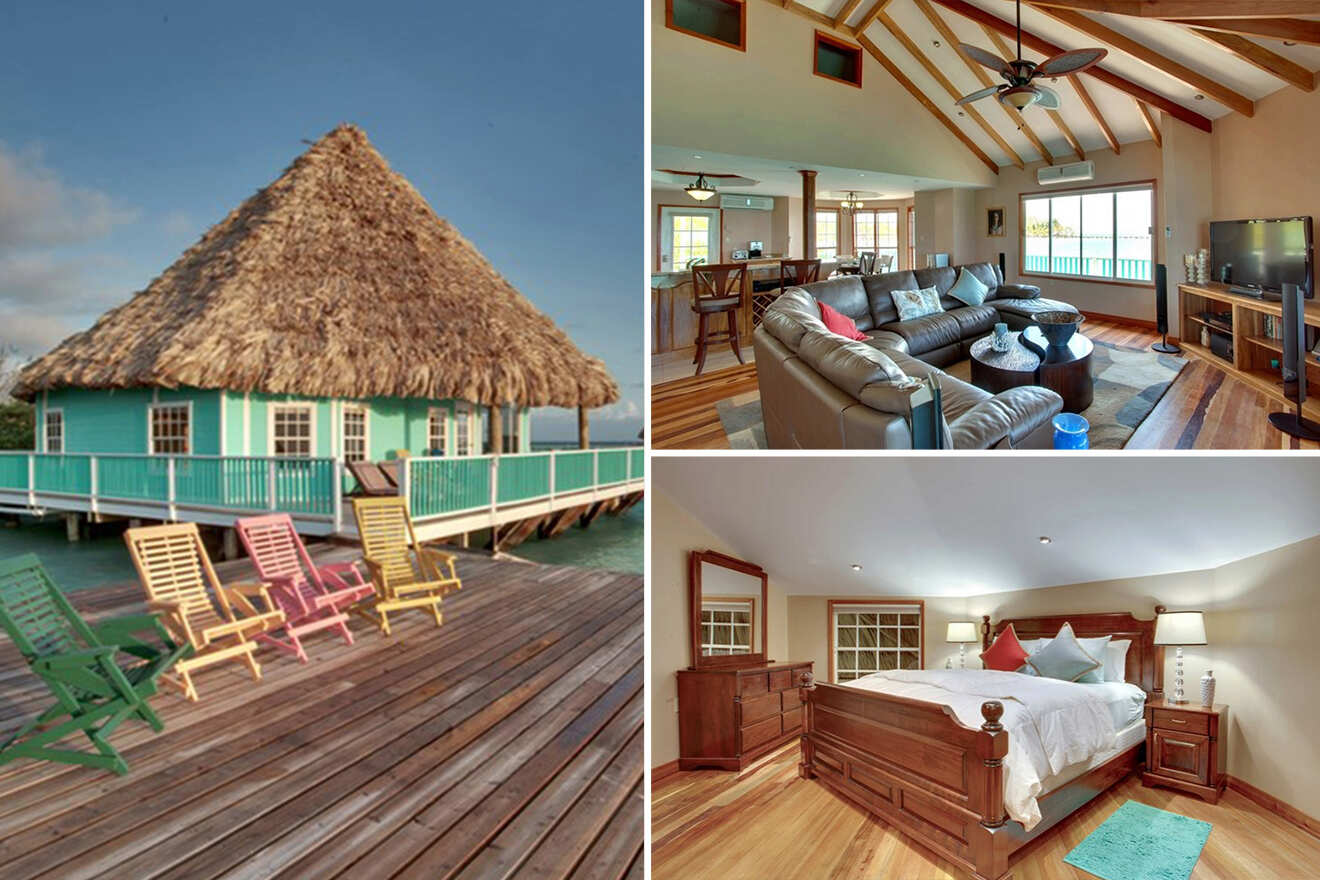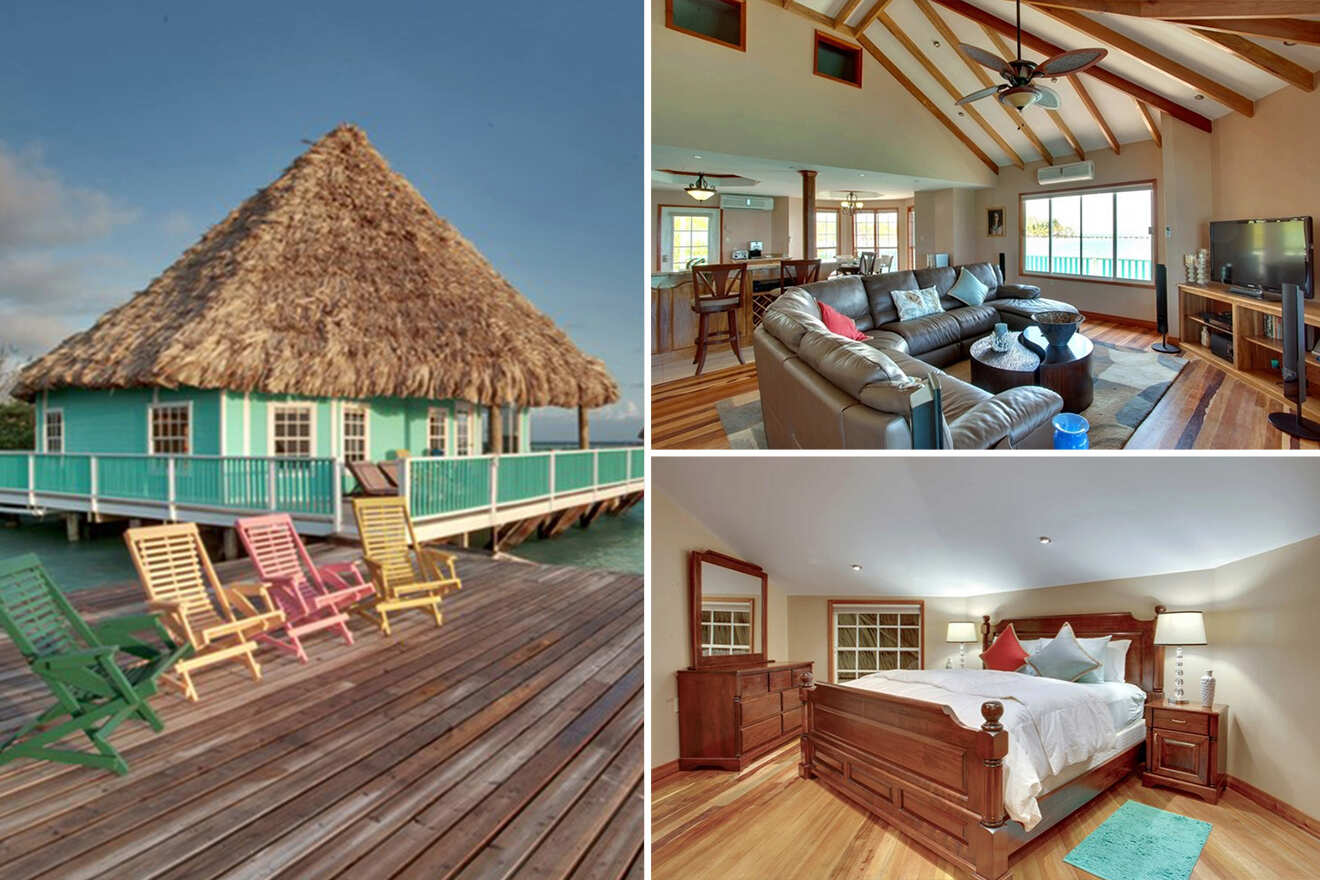 Planning a holiday with your family or group of friends? Well, if you want to spare some money and also stay together as a group then I think the overwater villas will be perfect for you! They're so spacious and can fit up to 6 people. Offering all-inclusive packages as well, this overwater bungalow in the Caribbean is set in the most scenic location in Belize!
A place where you can try lots of water sports from snorkeling to scuba diving and stand up paddleboarding. And when you want to rest and enjoy some me-time, the villas are at your disposal, each with a private deck where you can relax. Plus many other facilities like a full-kitchen and living room area, plus 3 rooms and 3 bathrooms.
7. Lina Point Belize Overwater Resort – with private pools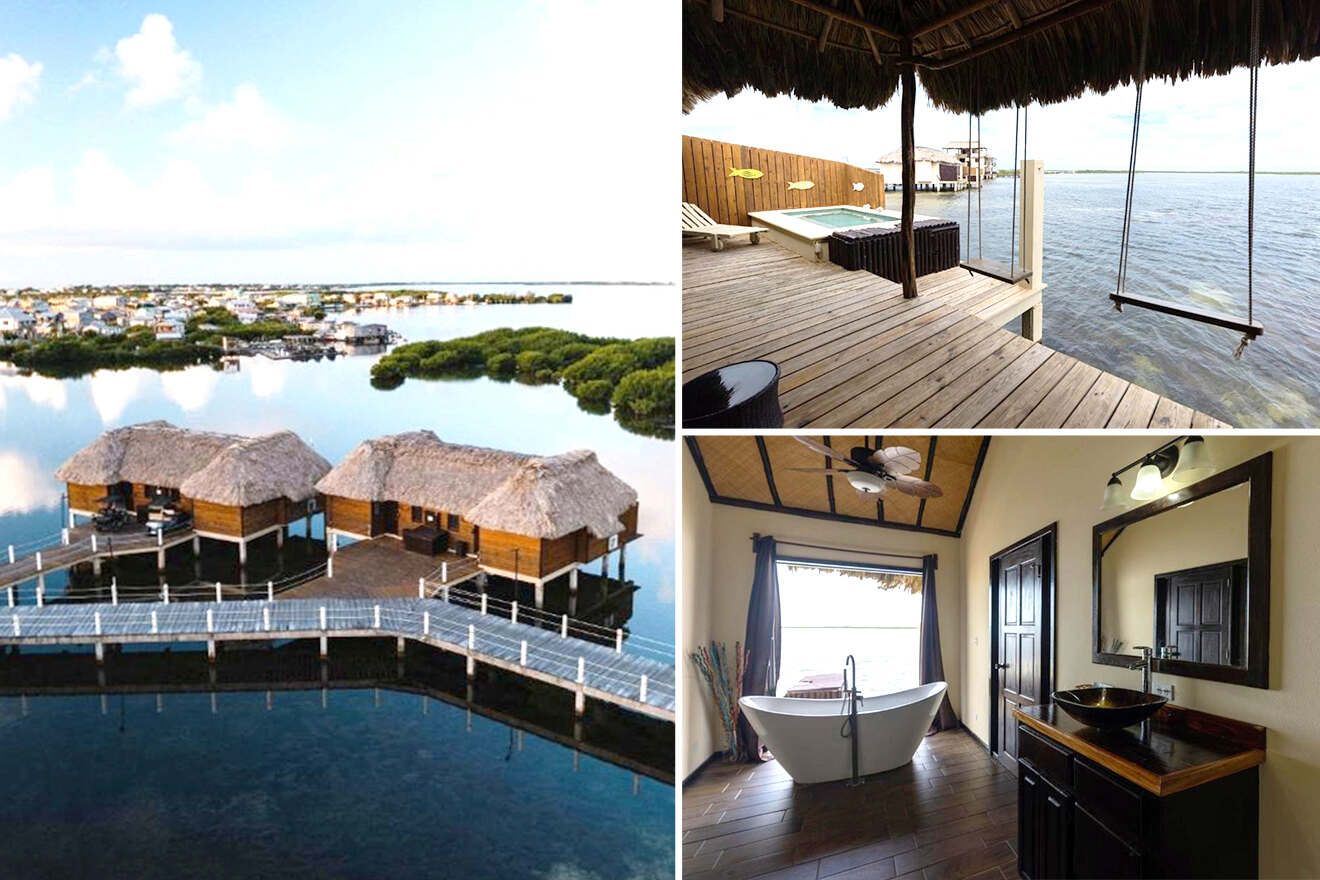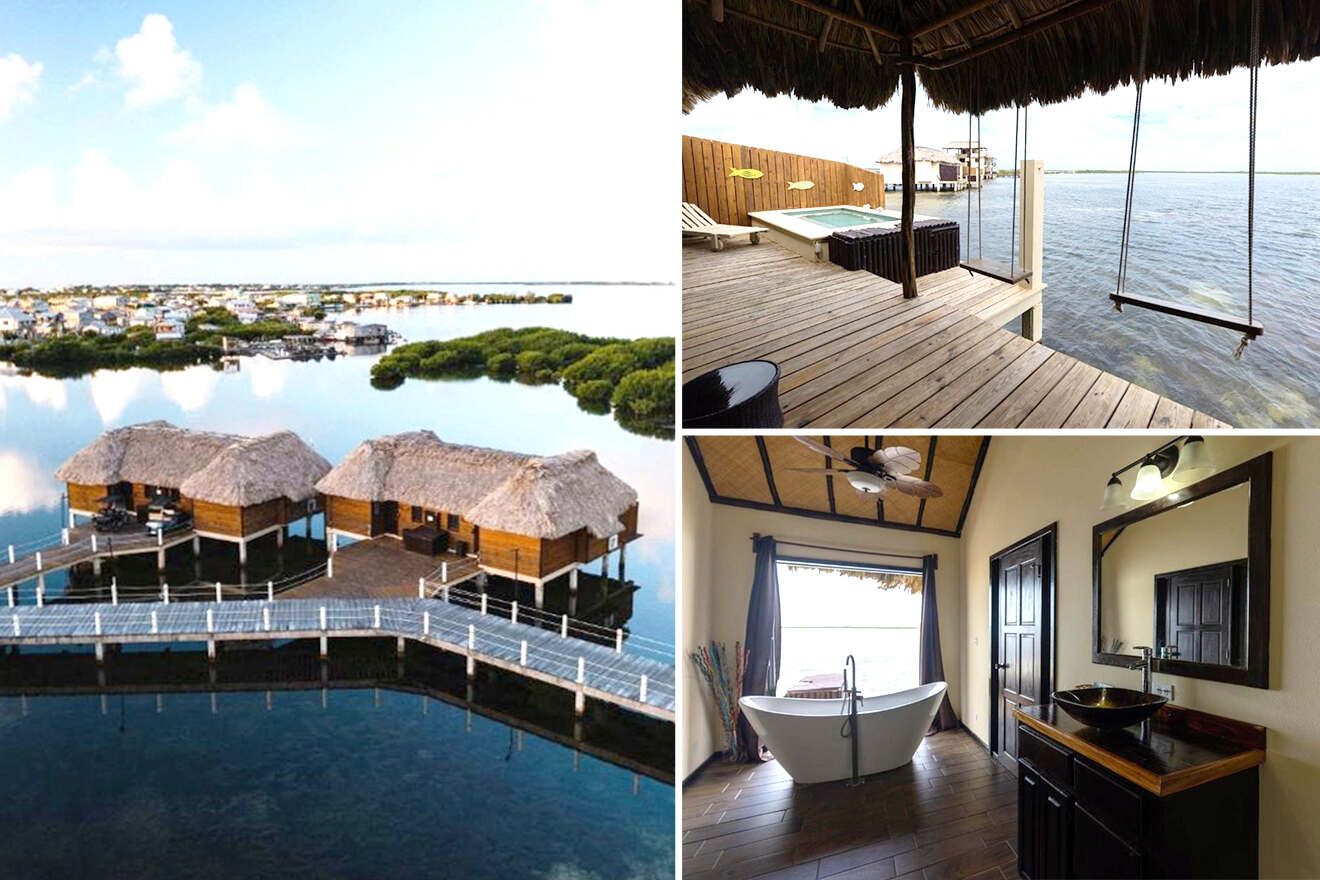 Already dreaming of your holiday in one of these amazing bungalows in the Caribbean? Yes, this location is pretty unbelievable and so are the resorts! Just like this one which is located on the island of Ambergris Caye in the town of San Pedro, Belize. The accommodation features private overwater villas for the whole family.
Each overwater bungalow comes with a glass-bottom section with lights in the living room and bedroom, so you can see all the fun underwater activity! Of course you can also do that while scuba diving and snorkeling, and for people who prefer to stay on-land, they also offer fishing. But it wouldn't be a perfect overwater bungalow if you didn't have your own private plunge pool! Luckily all over the water bungalows come with that at this resort!
8. Aruba Ocean Villas – eco-friendly overwater bungalows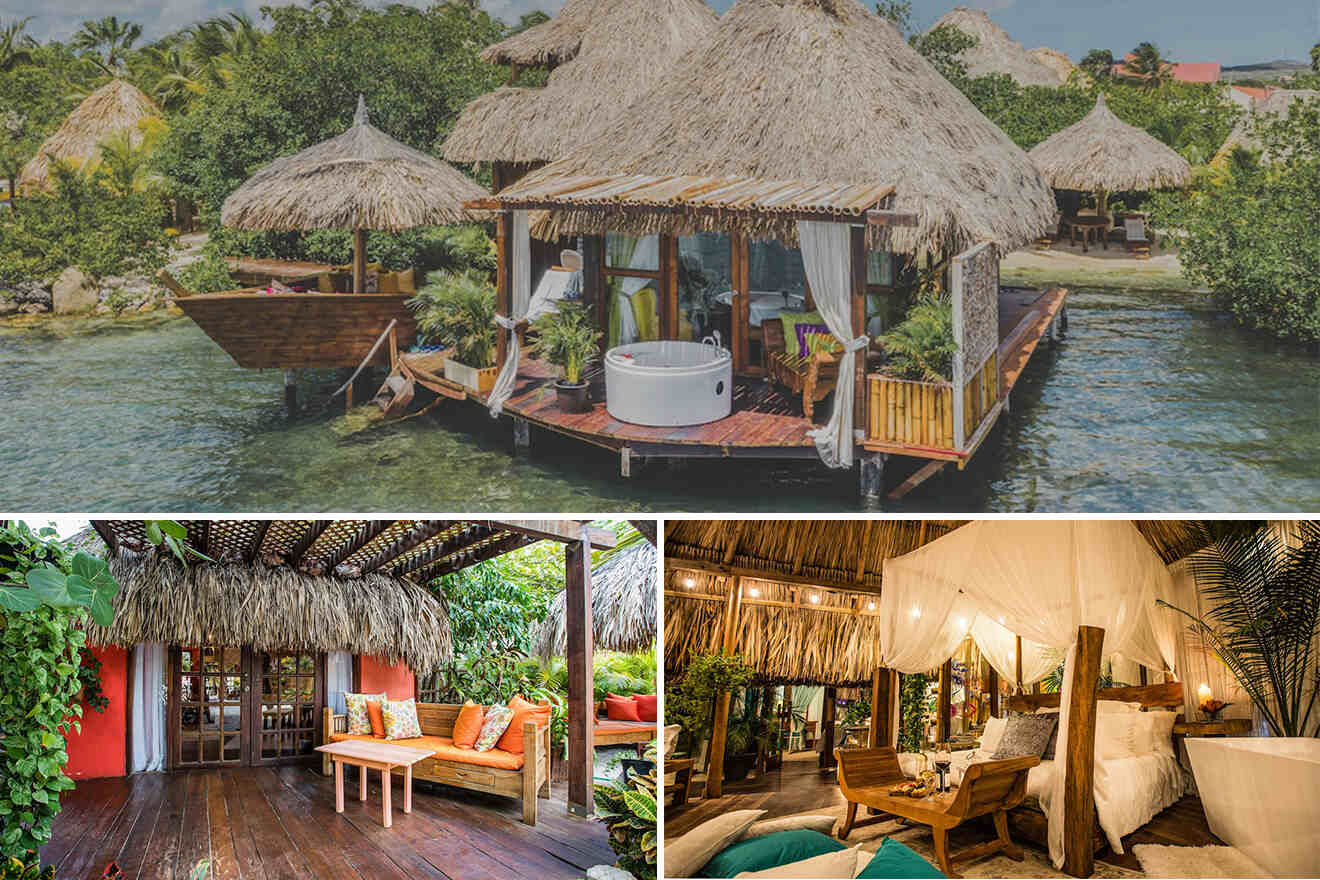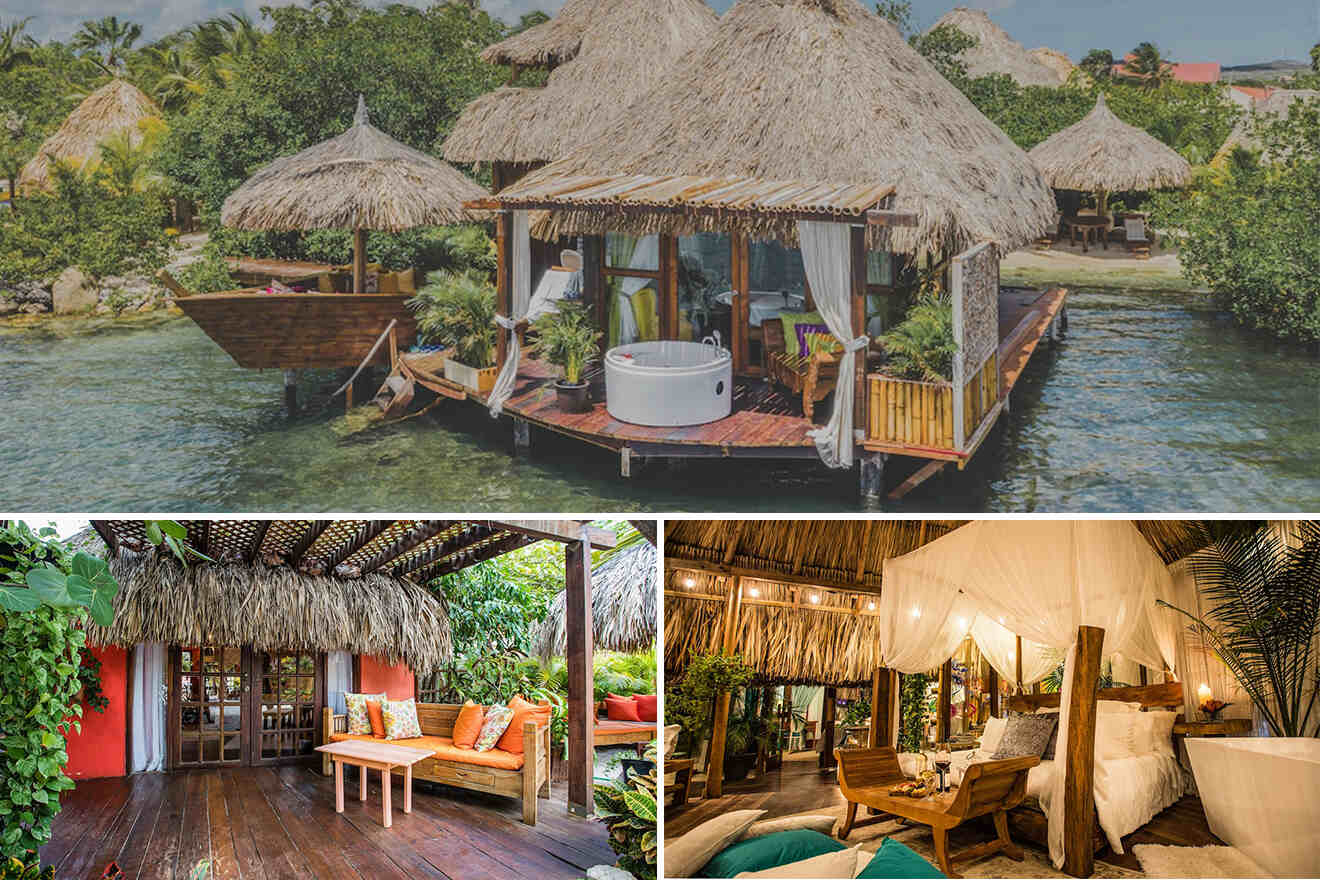 The fabulous beaches and areas in Aruba are waiting for you! Plus some amazing Caribbean overwater bungalows! Their eco-friendly villas are tucked away near the lush mangrove and each has such a unique Indonesian decor plus lots of cool facilities like outdoor showers, a deck and a covered jacuzzi.
Spend your days chilling at the Aruba Ocean Villas spa center, eating yummy food and taking long naps in the hammocks! Oh, did I forget to mention that you'll also get your own outdoor garden shower? I probably did. But know that this luxury resort is super diverse and each accommodation has its perks. Like the Sunset Villa, which is set on the oceanfront and is super big, just perfect for groups and families!
9. Punta Caracol Acqua Lodge – eco-friendly bungalows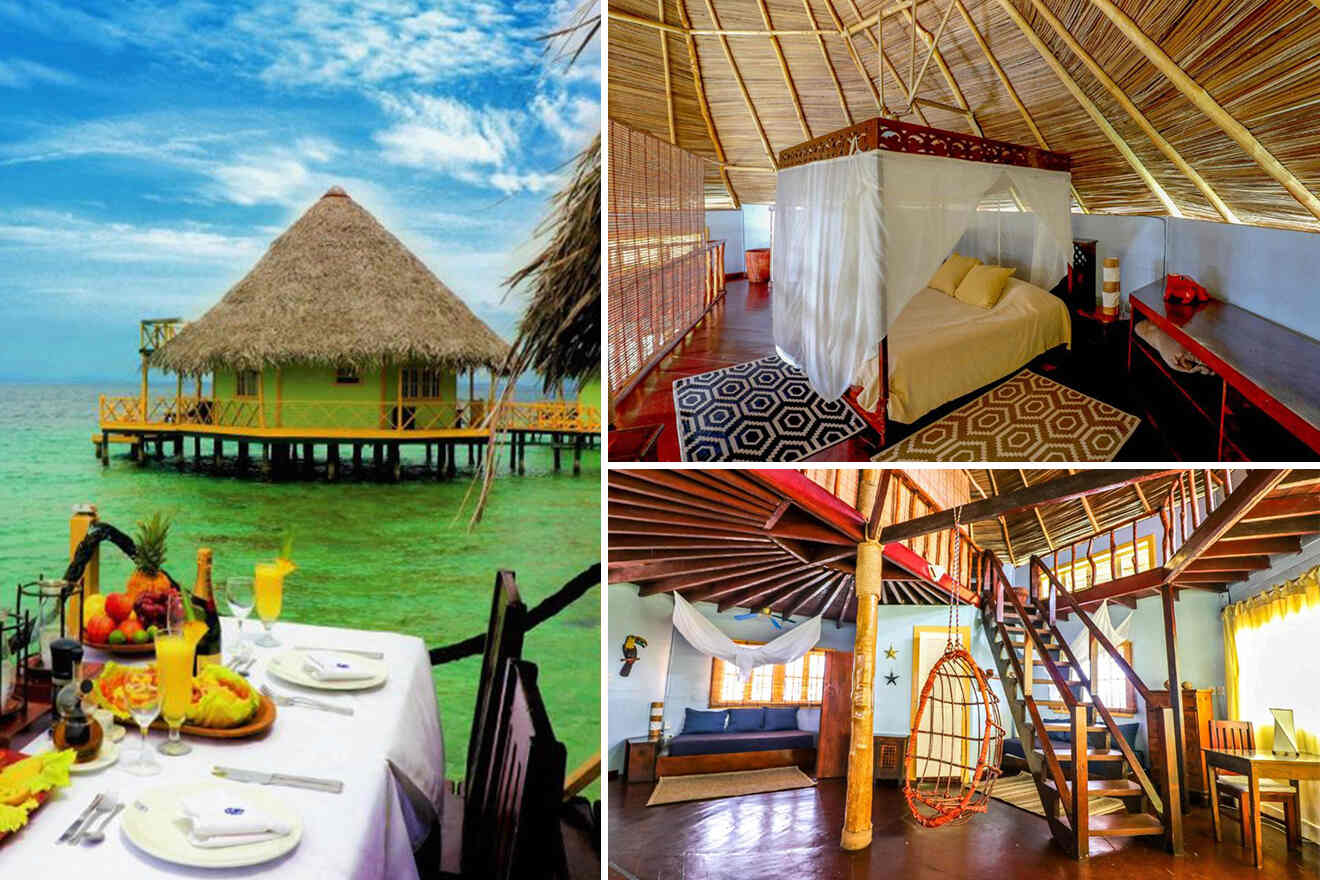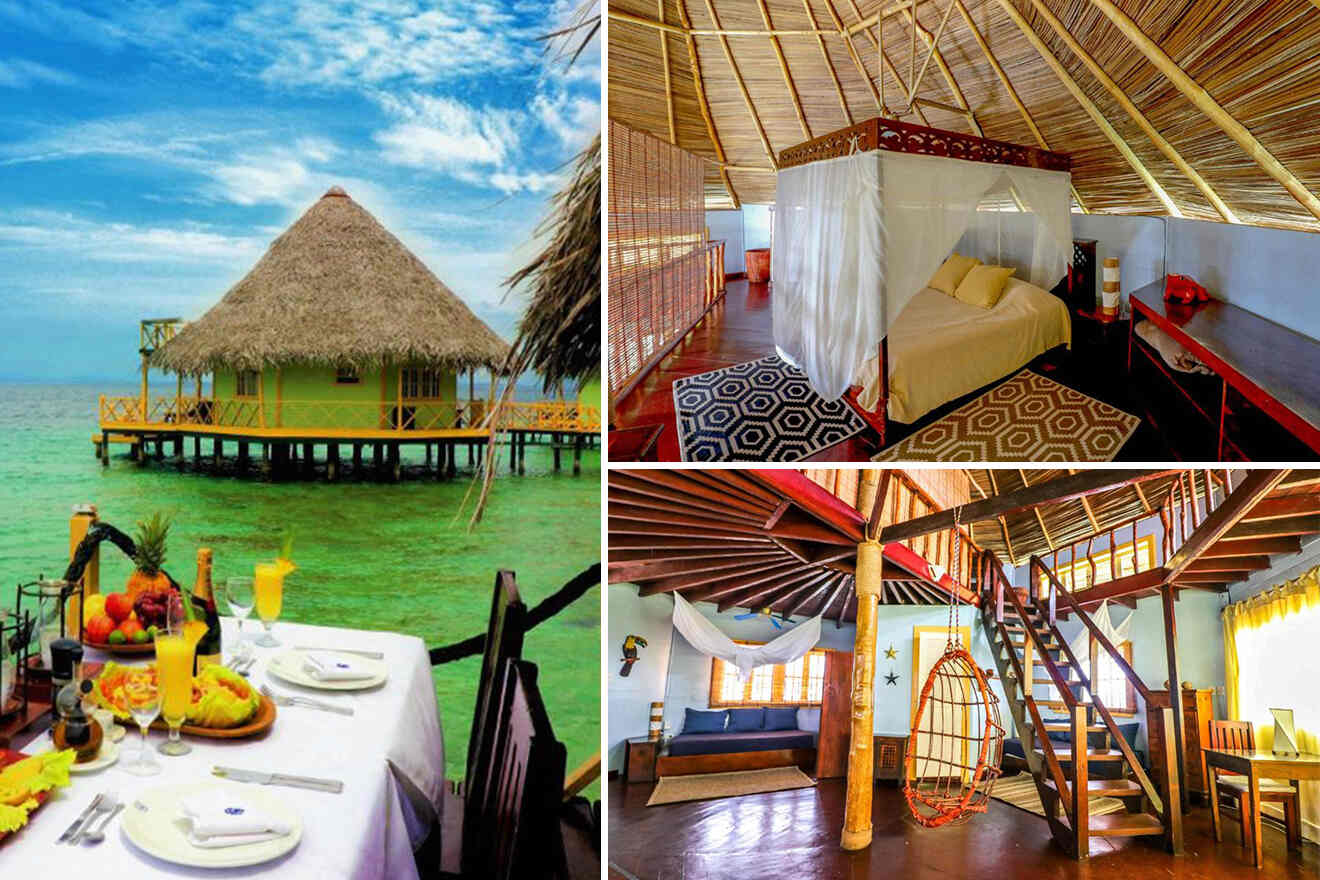 This eco-resort in Panama features super colorful overwater bungalows equipped with cool amenities like an overwater hammock and in-room massages. Located in the beautiful Bocas del Toro Archipelago in the Caribbean Sea, these bungalows are perfect for anyone who's looking for something more affordable!
All overwater bungalows at Punta Caracol Acqua Lodge come with palm roofs, four-poster beds and a bathroom that uses electricity from the solar panels. You can reach the resort by just a short boat ride from the mainland. Get ready to try all sorts of fun activities here from snorkeling, dolphin-watching trips, hiking and visiting native communities in Bocas del Toro!
10. Urraca Private Island – with rescued monkeys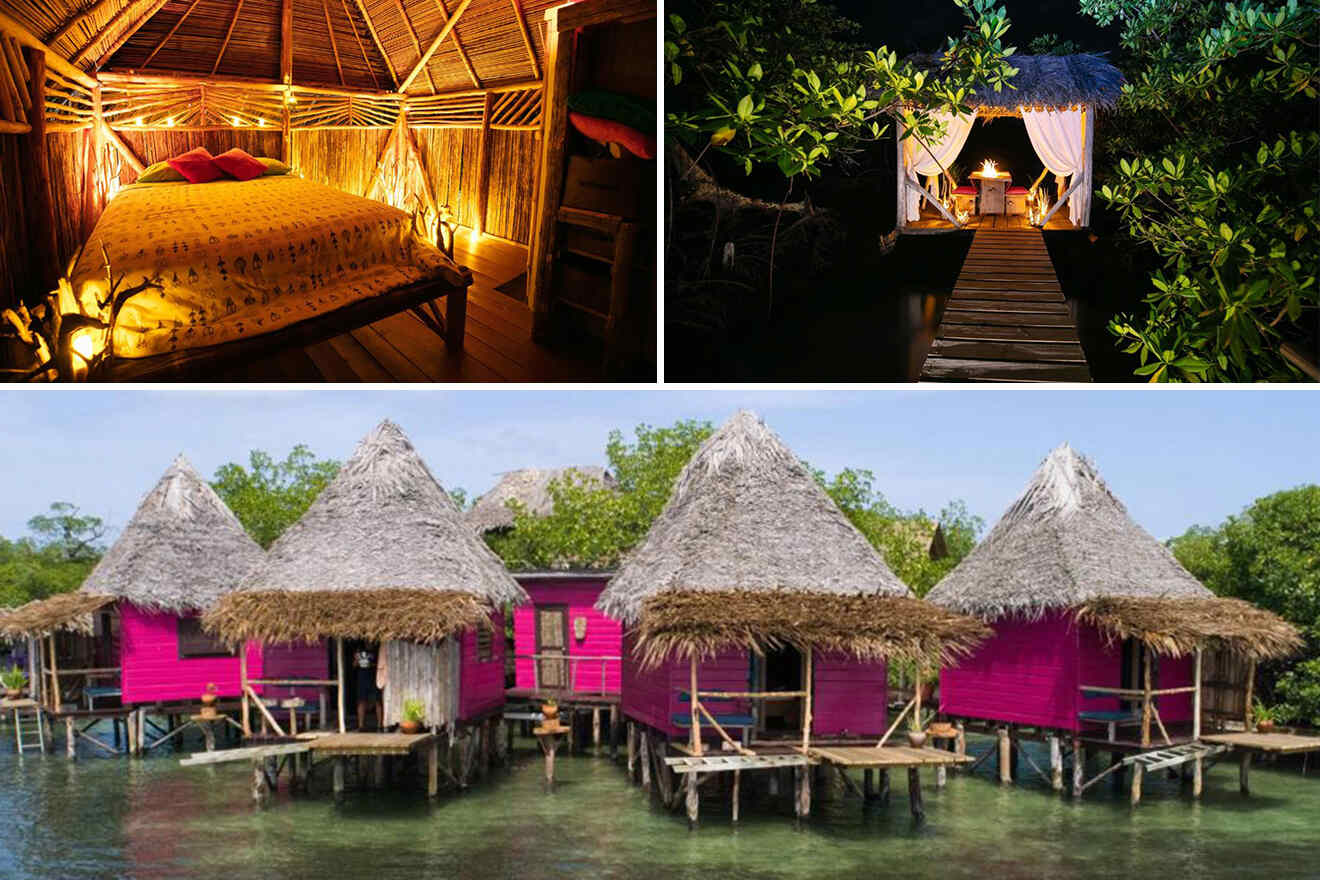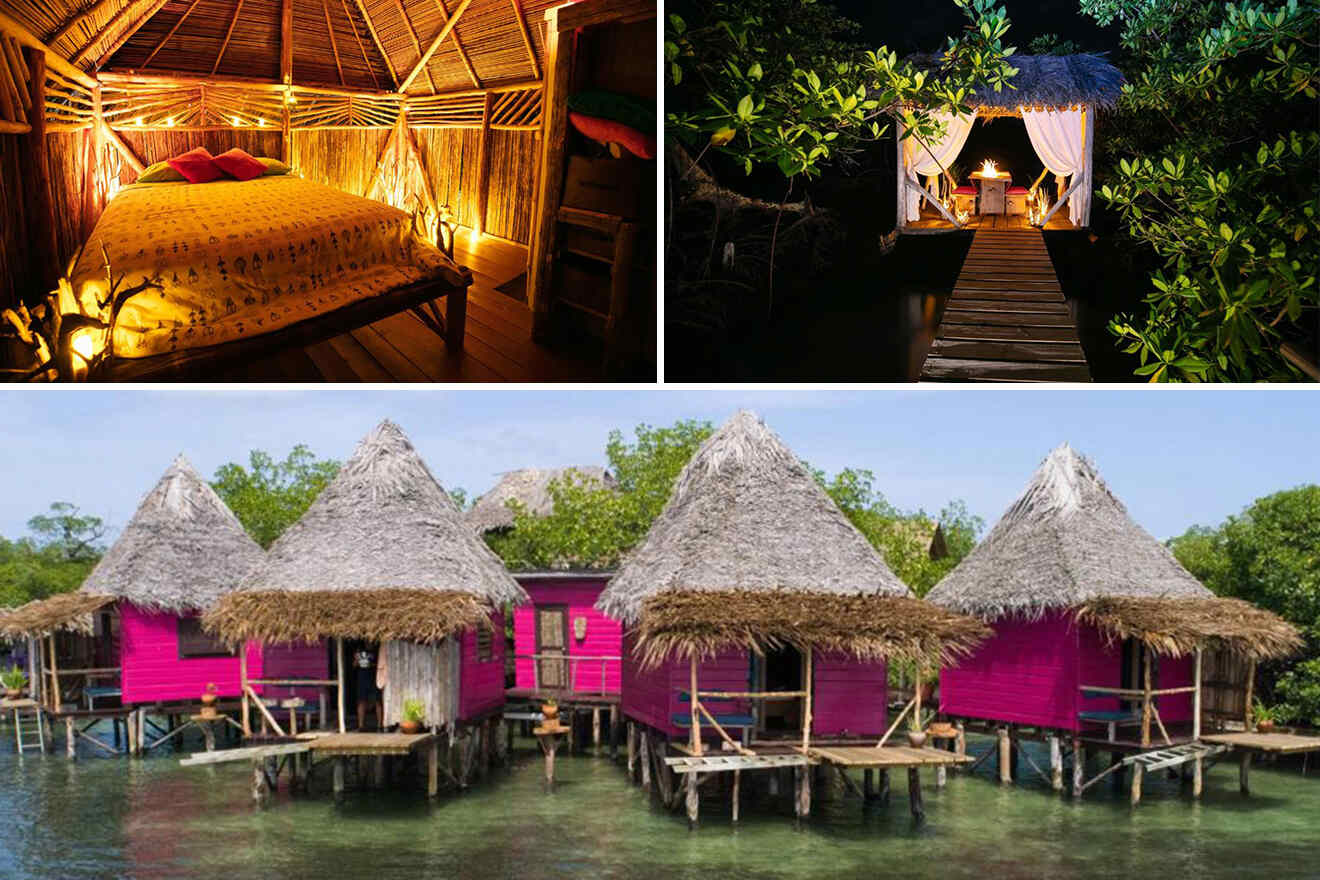 If you're not one who goes for the fancy luxury resorts with super futuristic Caribbean overwater bungalows, and you prefer more eco-friendly places where you can feel the authenticity of the place and enjoy the wild natural side then I think you'll love this place in Bocas del Toro, Panama!
Feel like you're staying on your own private island at this resort that offers overwater bungalows, in a pristine area of Bocas del Toro in Panama. Each colorful villa comes with a private deck, free wi-fi and a private shower. The accommodation has a saltwater pool, a restaurant and lots of lounging areas with hammocks. And just know that you'll be sharing the property with some really cute furry friends. Some monkeys that were rescued from the pet trade and who live there on the island!
11. Azul Paradise – beach resort with a restaurant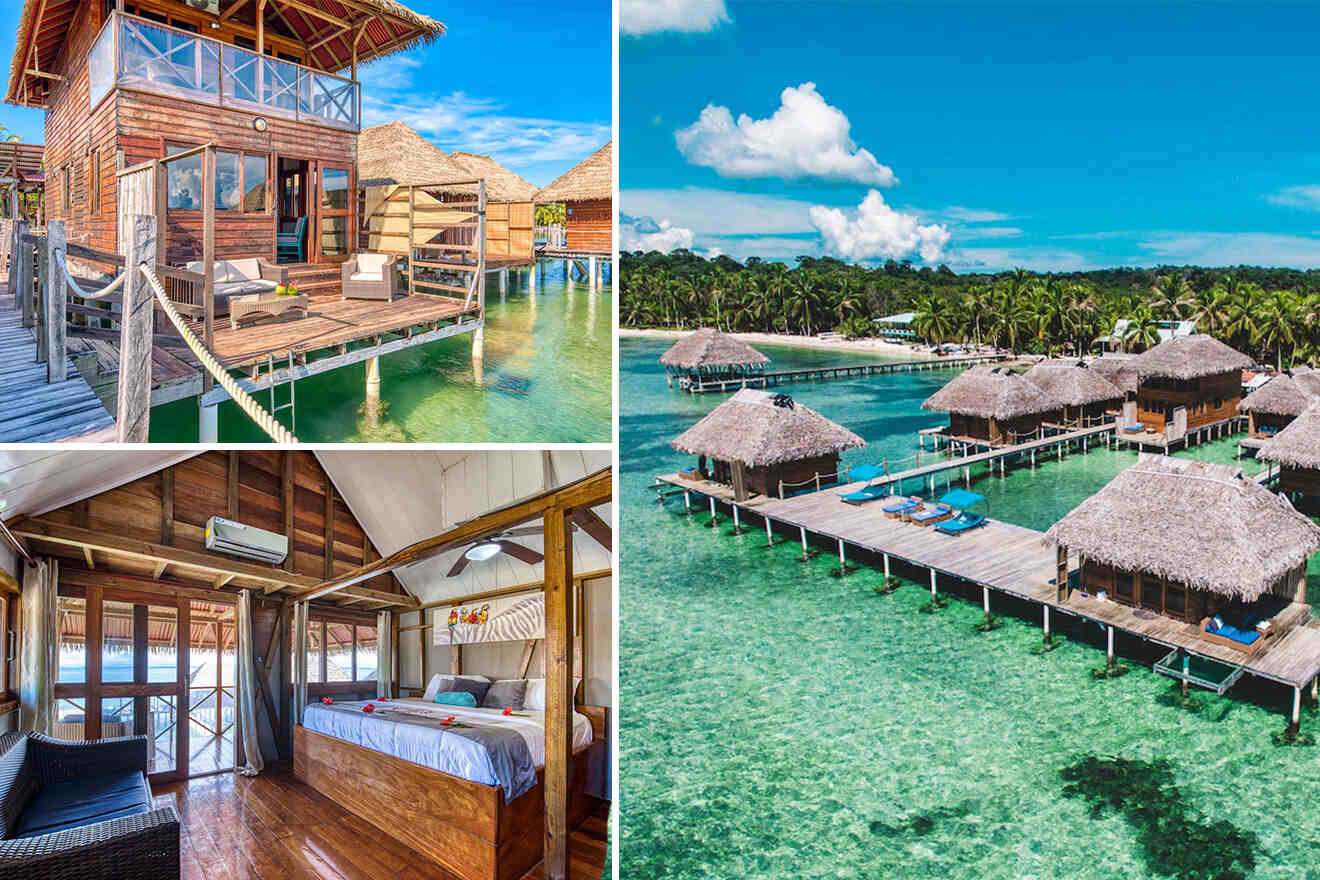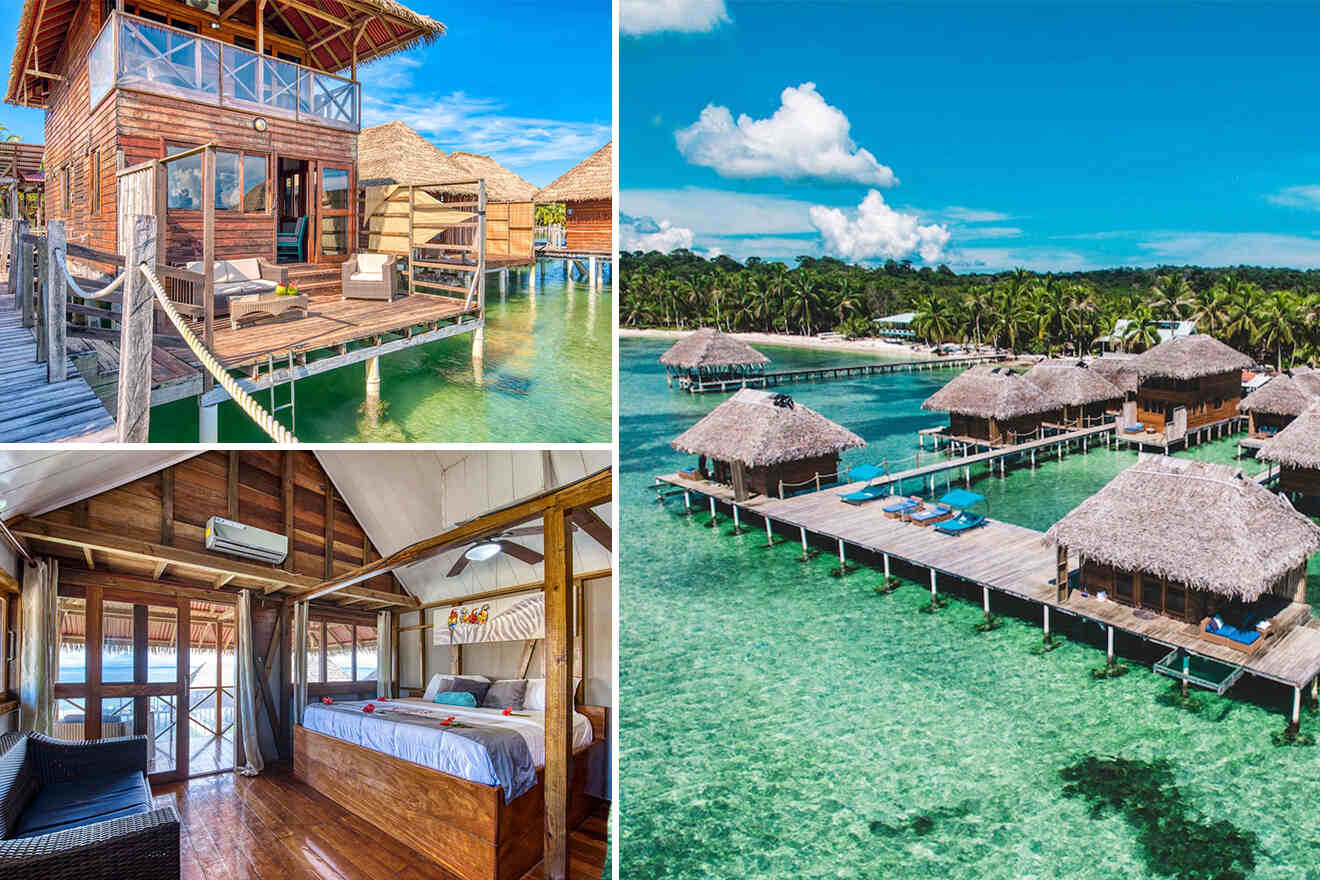 They sure picked the name right for this place, because it looks like a location in paradise! Wake-up to the most amazing backdrop of the Caribbean Sea, from your light bungalow that has lots of big windows (always a plus in places like this), a private deck and a private bathroom.
Set right on the beach in Isla Bastimentos in Panama, the accommodation offers many activities from water sports, areas where you can do some yoga or stretching and of course lots of swimming! You can start your day with some breakfast, at the restaurant on-site and then head out to explore the amazing beach and the island!
BONUS: Most romantic overwater bungalows for couples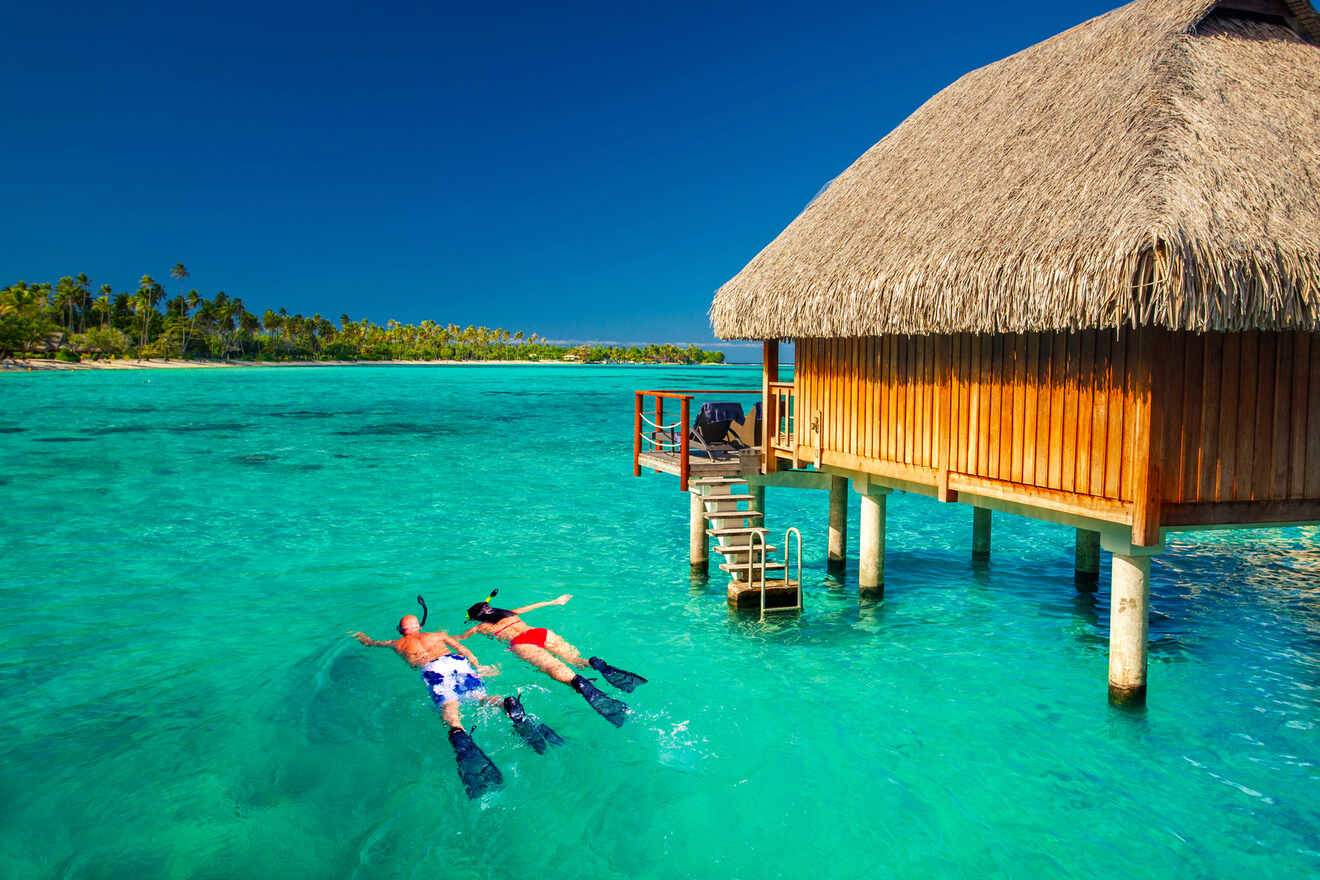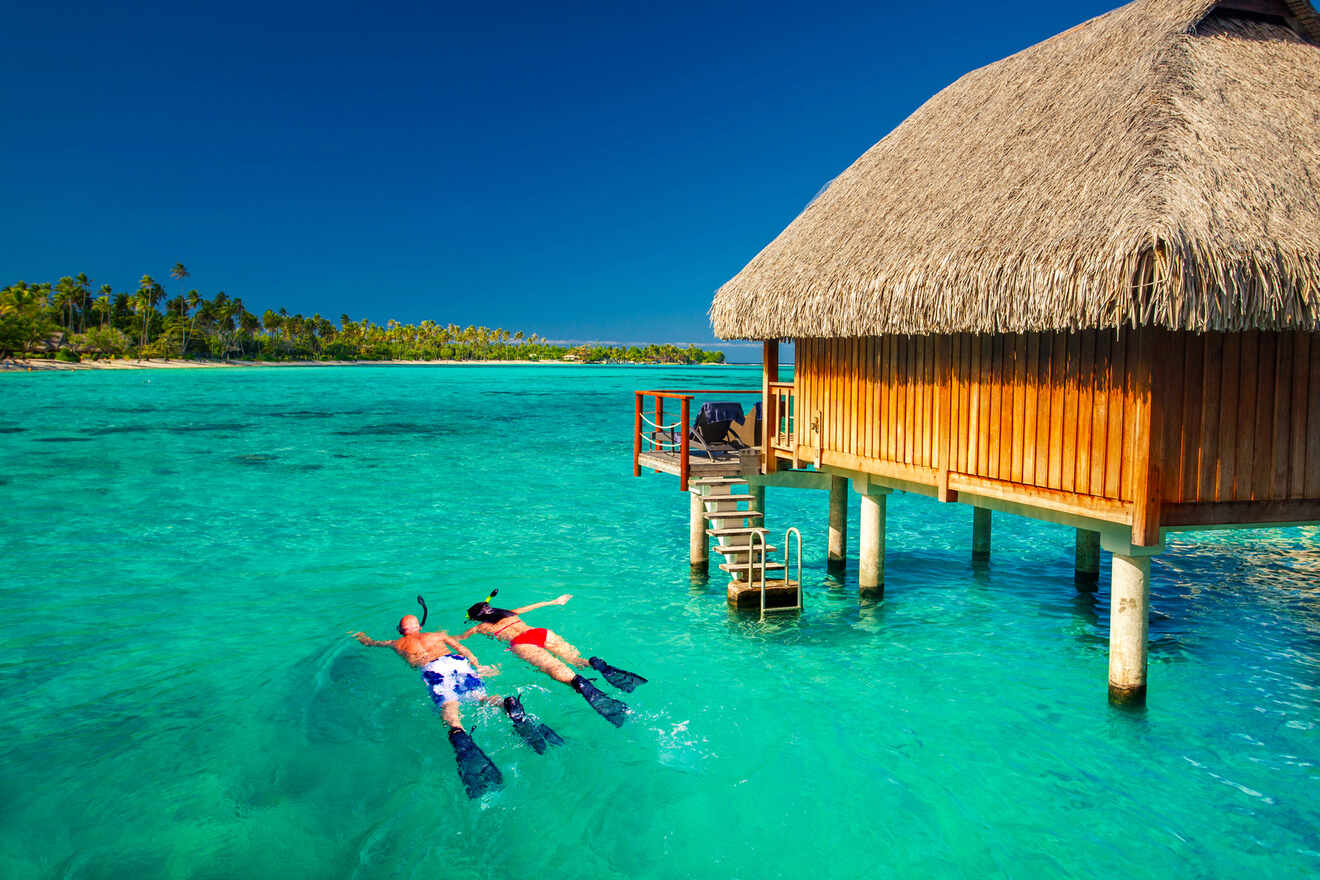 Looking for the perfect Caribbean overwater bungalows for you and your partner? Whether you're planning a honeymoon or a romantic getaway in this tropical paradise, you'll need the perfect accommodation!
One where you can enjoy all the privacy that you need, take long romantic walks on the beach and candle-lit dinners. So I've decided to give you some help and I've found 3 awesome Caribbean overwater bungalows that I'm sure you'll love!
So let's check them out:
1. Sandals South Coast Resort – adults only overwater bungalows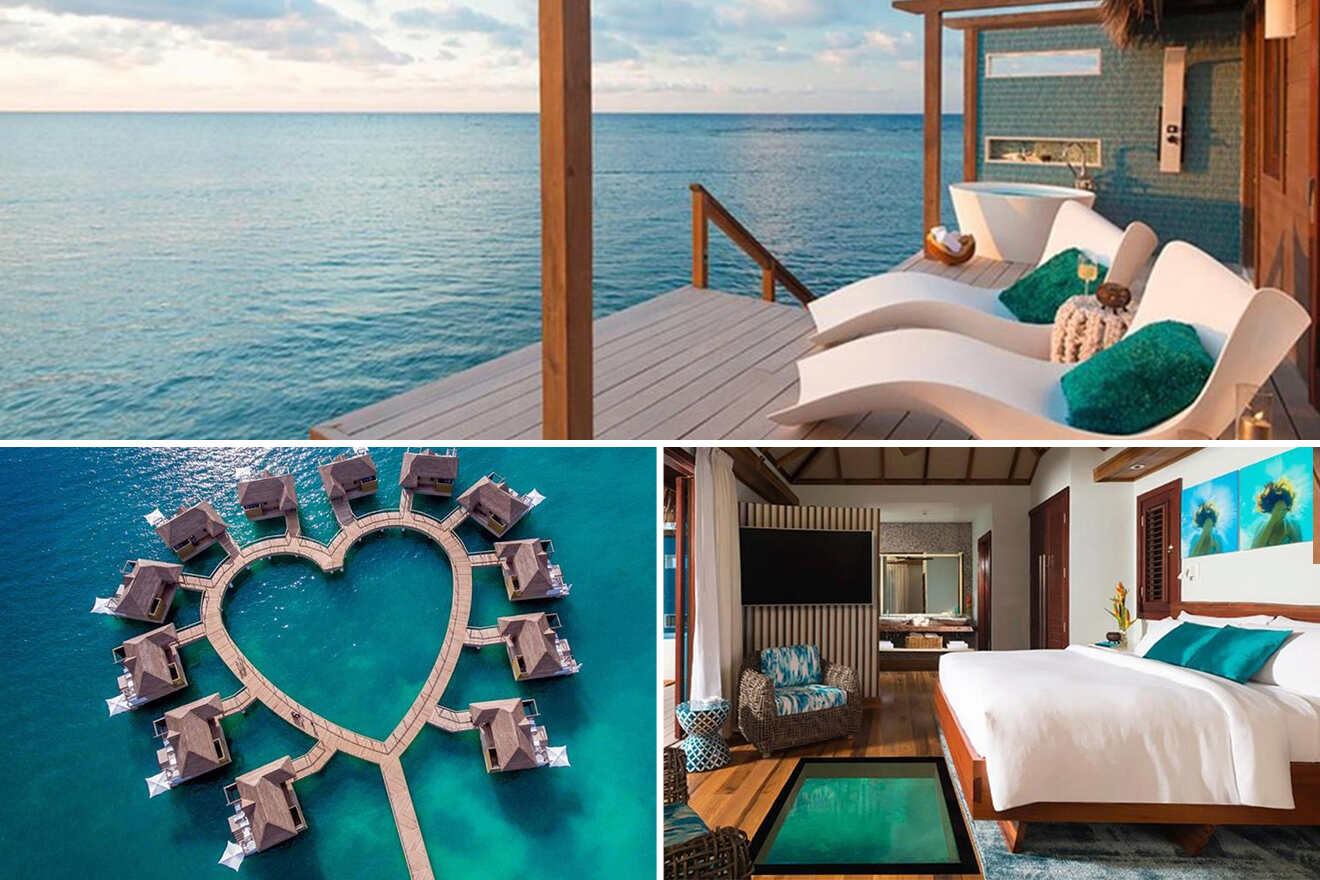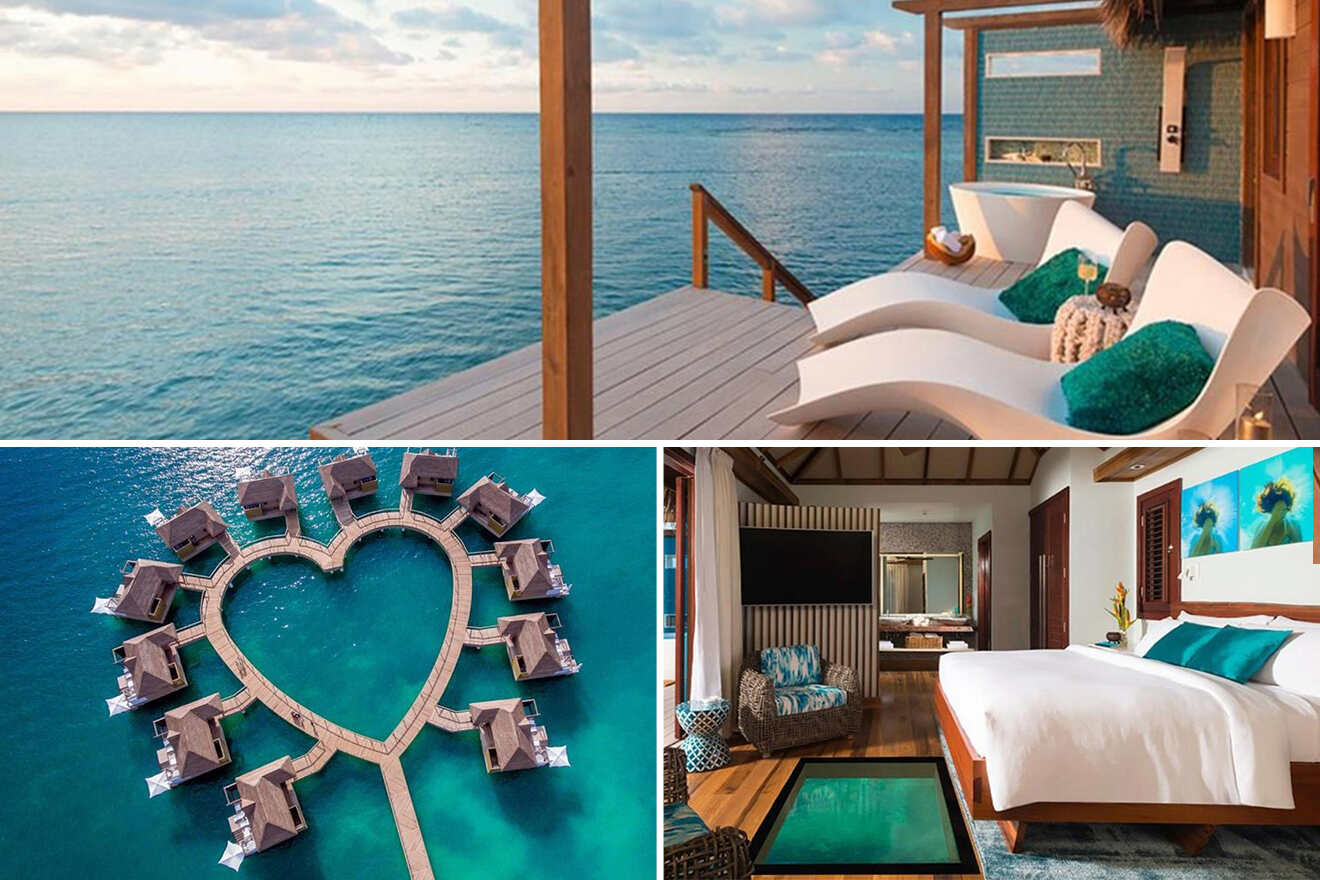 Located in Jamaica this couples only resort will become your favorite romantic getaway destination! The oceanfront resort features different overwater bungalows that have private terraces with Sandal's signature tranquility soaking tubs, an outdoor shower and a suspended patio with a swim-up platform.
Don't think the interiors are anything less! Each overwater bungalow comes with glass floors, and a spacious spa-style bathroom! Enjoy your private time in the soaking tubs and lazy up in the hammocks all day long. Your romantic dinners will feel so unique each day since there are 9 restaurants on-site (one for each day of your stay)!
2. Banyan Tree Mayakoba – overwater bungalow with a private pool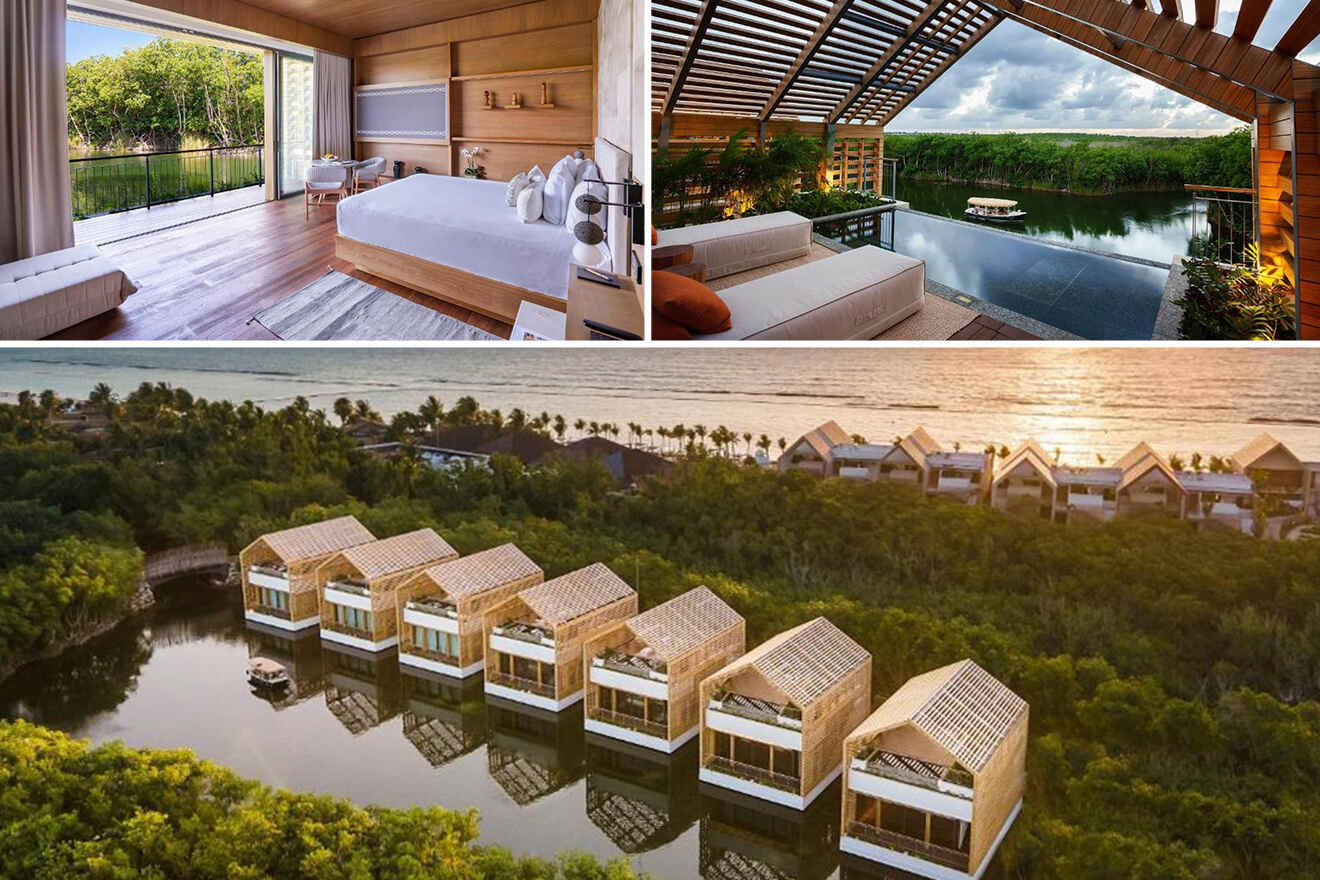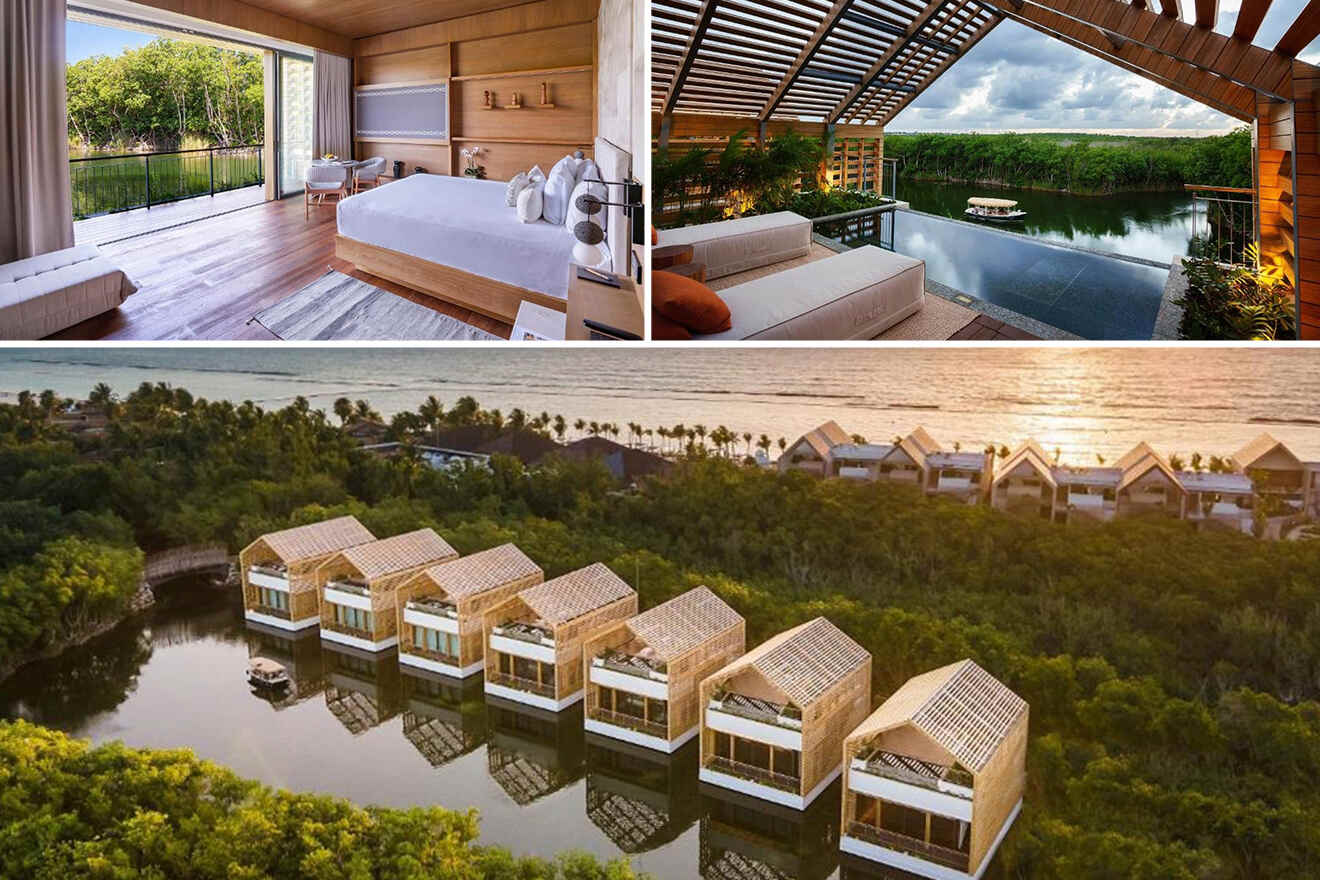 Let's just say you'll never forget your romantic holiday spent in these amazing Caribbean overwater bungalows! Especially in these eco-friendly ones which are set in Playa del Carmen, Mexico with such cool decor!
Featuring lots of space, a heated plunge pool and amazing lagoon views, the overwater bungalows will offer you and your partner all the privacy you need for your stay. Their spa center is ready to help you enjoy days of pampering, massages and body treatments. But that's not it. There are also plenty of fun things you can do to make this trip iconic, like going on tours in Playa del Carmen, taking yoga classes and cooking classes.
3. Palafitos Overwater Bungalows – with private infinity plunge pools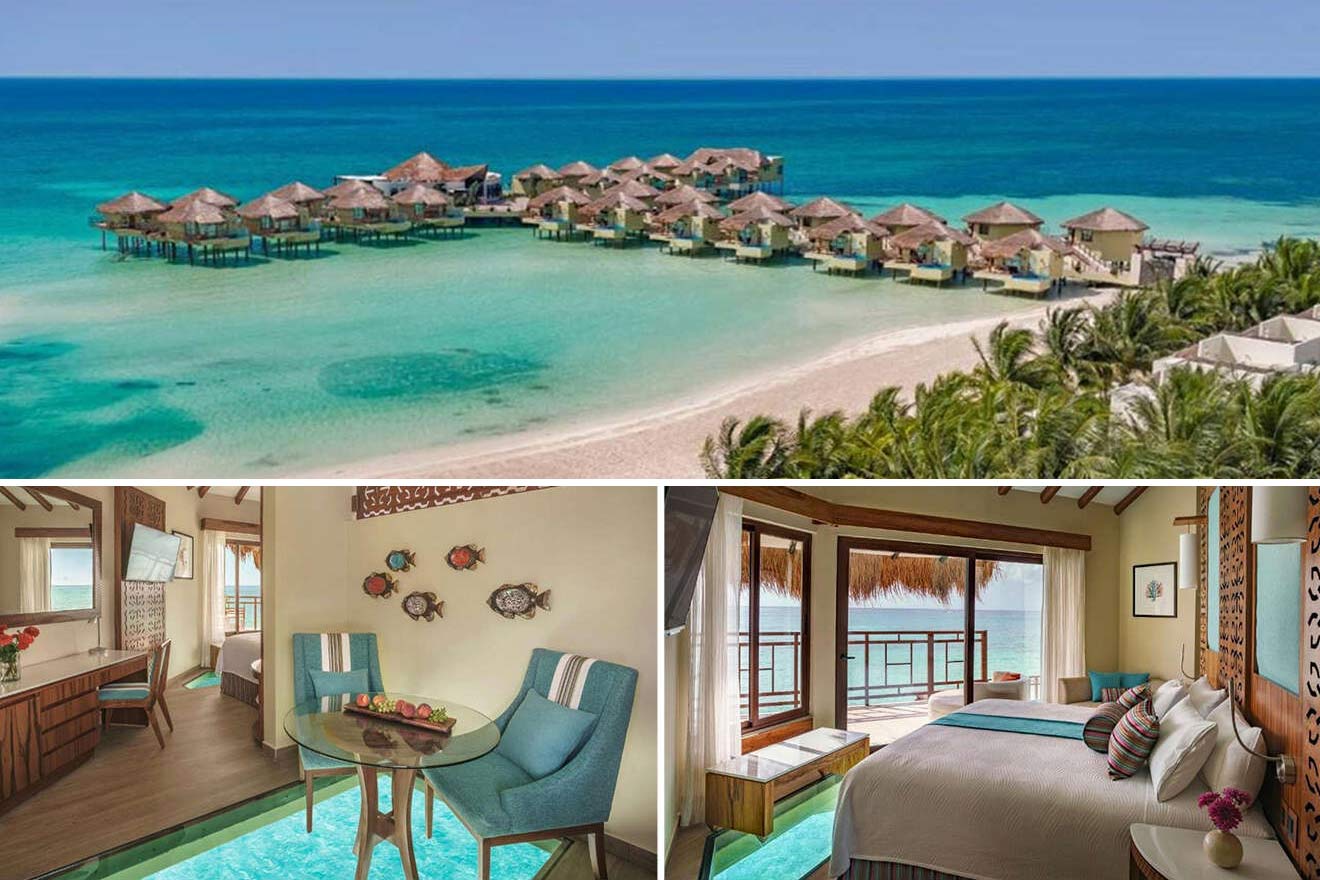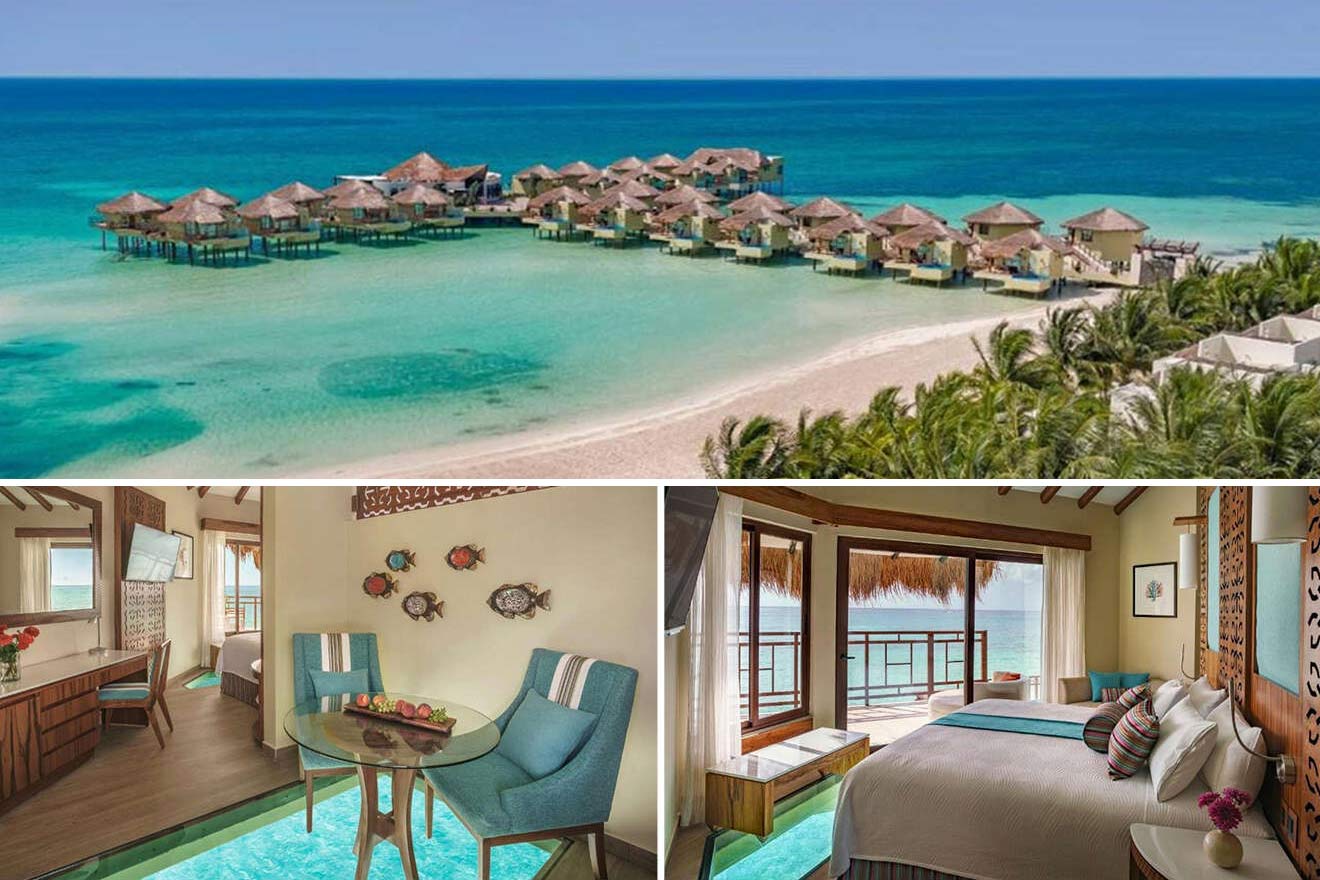 Jump from your king-size bed straight into your private infinity pool at this awesome resort that has overwater bungalows, nestled into the turquoise waters of Maroma Beach. The overwater bungalows come with a glass floor, a personal butler service, private infinity plunge pools and a cool outdoor shower!
You can even enjoy your breakfast on the terrace overlooking Mexico and the Caribbean's finest turquoise waters! The accommodation also has a restaurant that serves gourmet dishes, so you have cute dinner dates there every night! And let's not forget about their spa center that offers massages and a range of treatments including traditional Mayan herbal practices, a sunrise couples massage on the beach and a Tequila Ritual!
FAQs about over the water bungalows in the Caribbean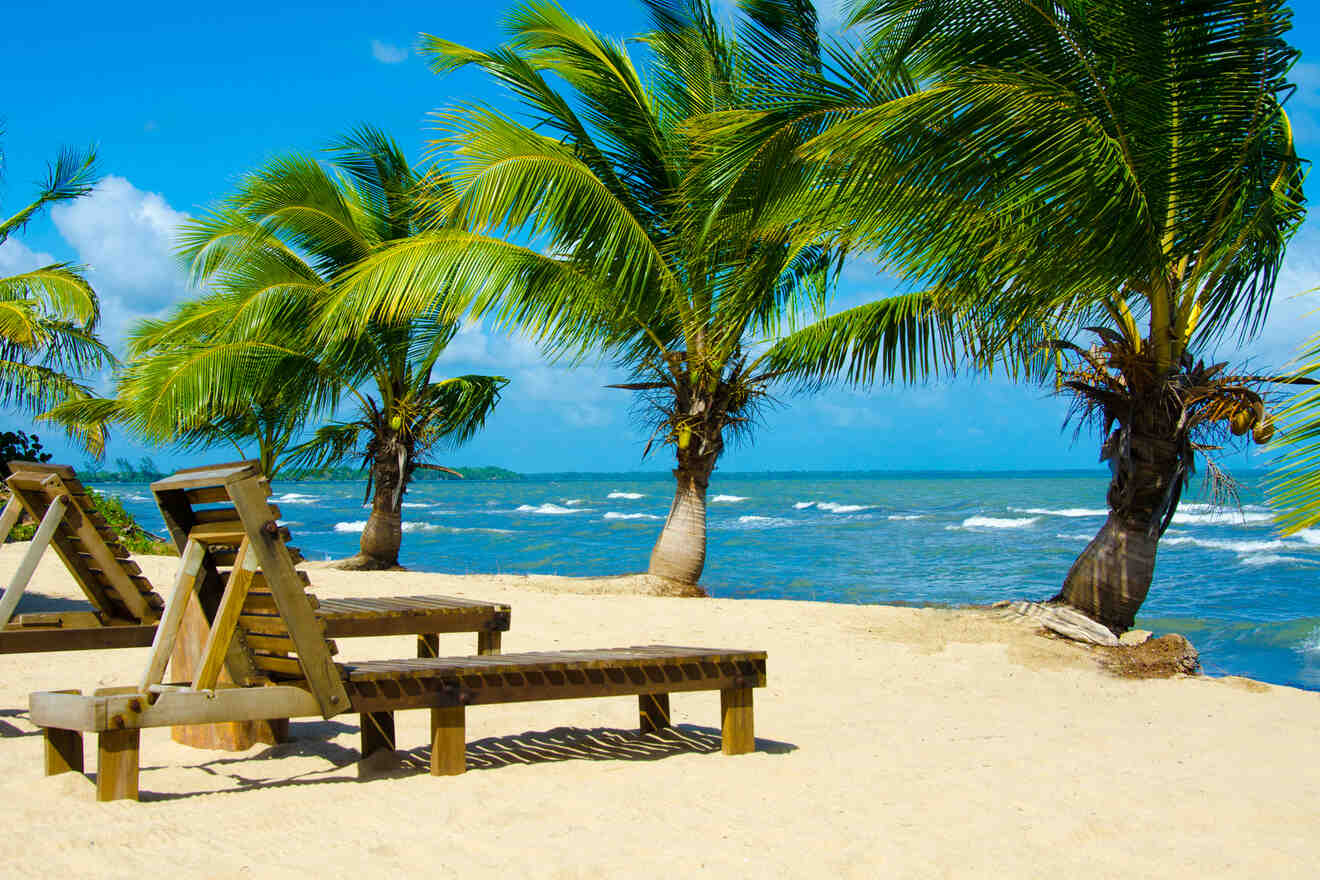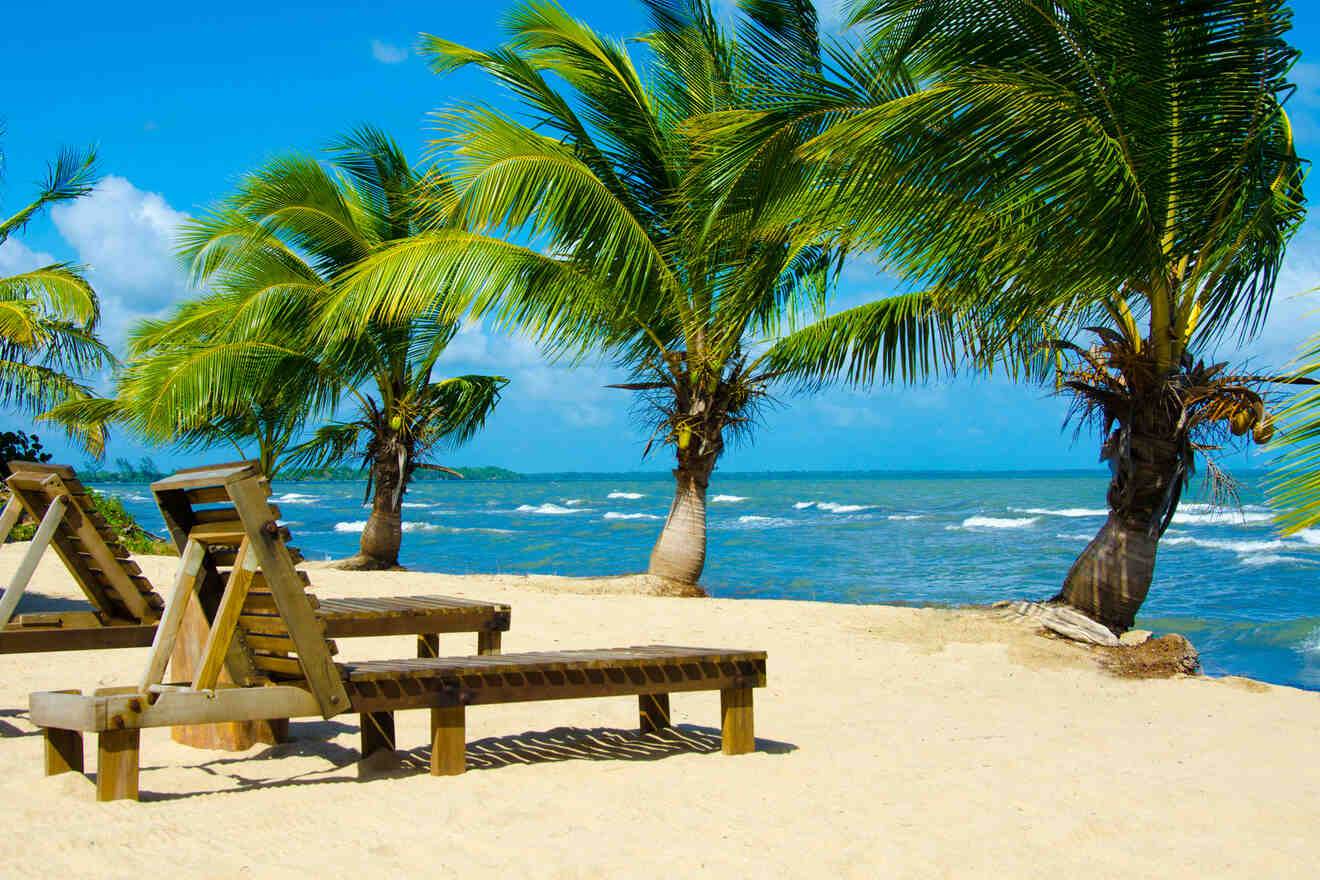 Conclusion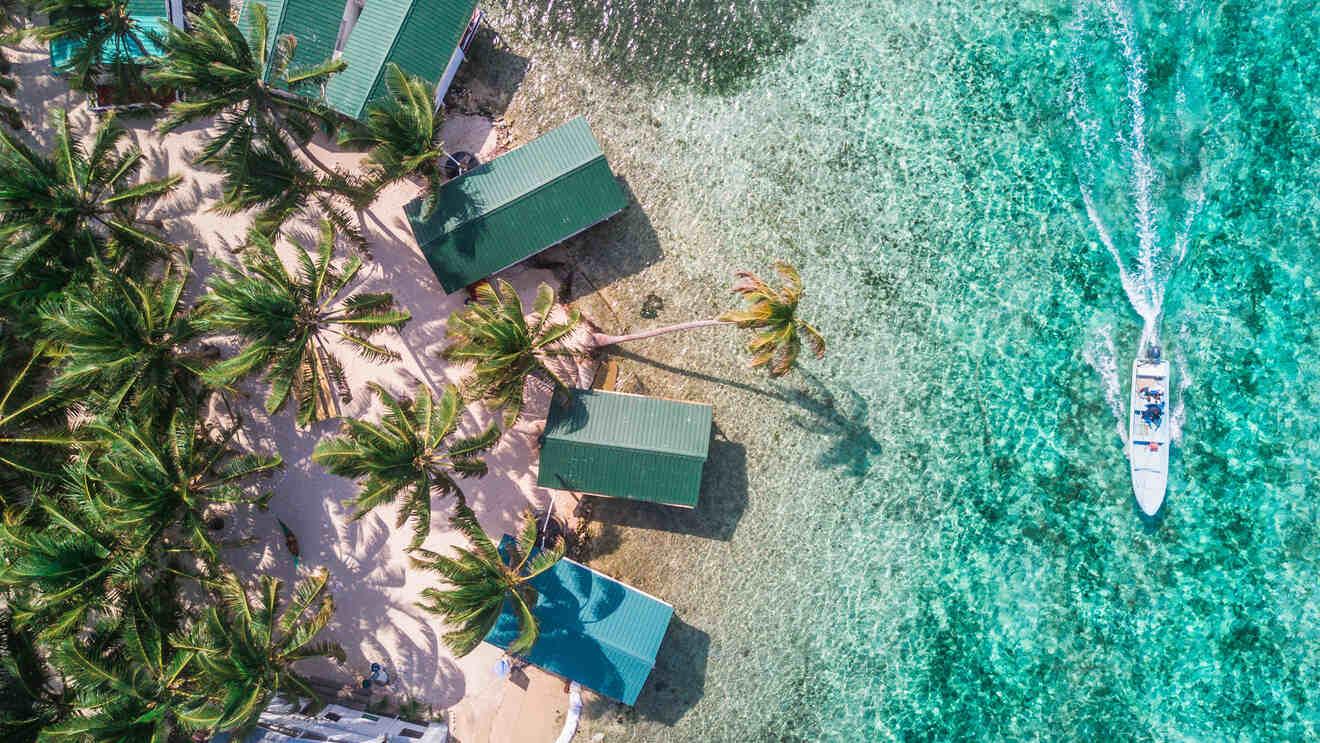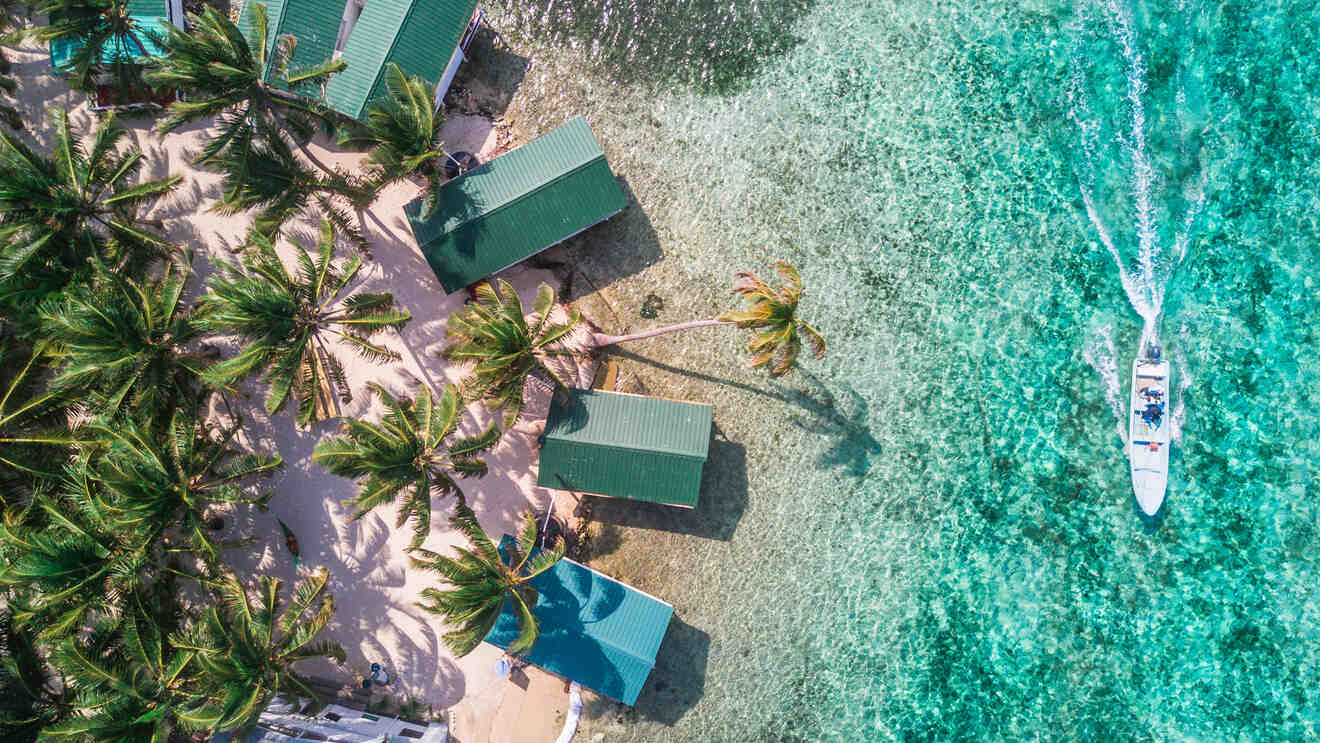 Who's ready to enjoy lots of cocktails somewhere on a private beach and chill in your own overwater accommodation? I bet everyone is, but before we jump over to book resorts, let's do a quick recap of what you'll find in the post!
So the article has a list of the best overwater bungalows in the Caribbean, which are listed from most to least expensive. Plus a bonus section with 3 awesome overwater bungalows for couples!
Although everything is super straightforward, I'm sure some of you are still in doubt and wonder which place to pick. So if you need a bit of extra help, check out my 2 favorite Caribbean overwater bungalows:
Although all of them are so unique, these 2 have definitely caught my eye. But the list isn't that long so in my opinion, it's super important to book early. These Caribbean overwater bungalows are some of the best ones in the world, and they will sell out super fast!
Well everyone, I hope you're even more excited about this trip! I know I've included all the hotel-related details in this post, but if I missed anything or you need any advice or help, just pop a comment below and I'll make sure to reply to you as soon as I can!
Don't forget to take many pictures!
Safe travels,
Victoria
---
Pin it for later!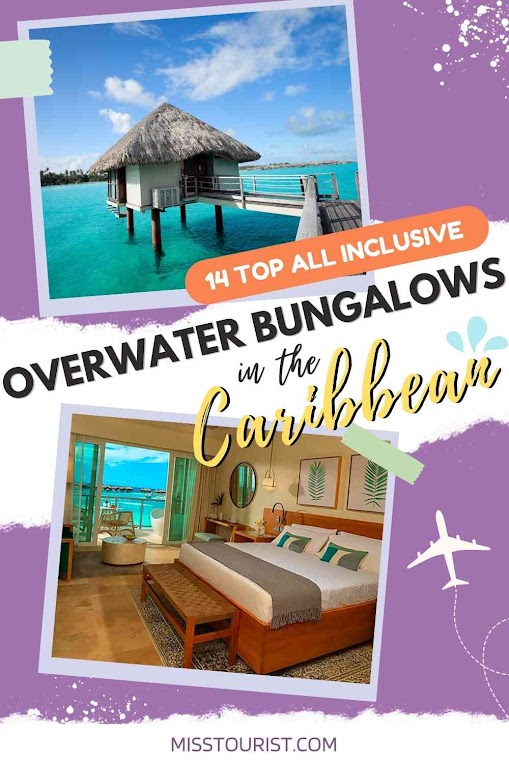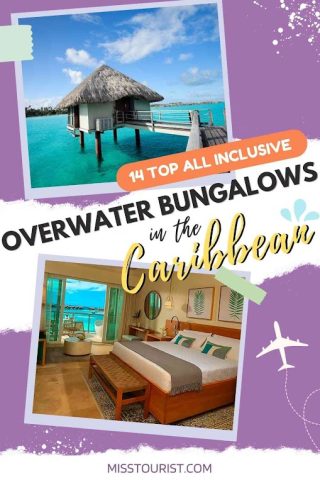 Pin it for later!