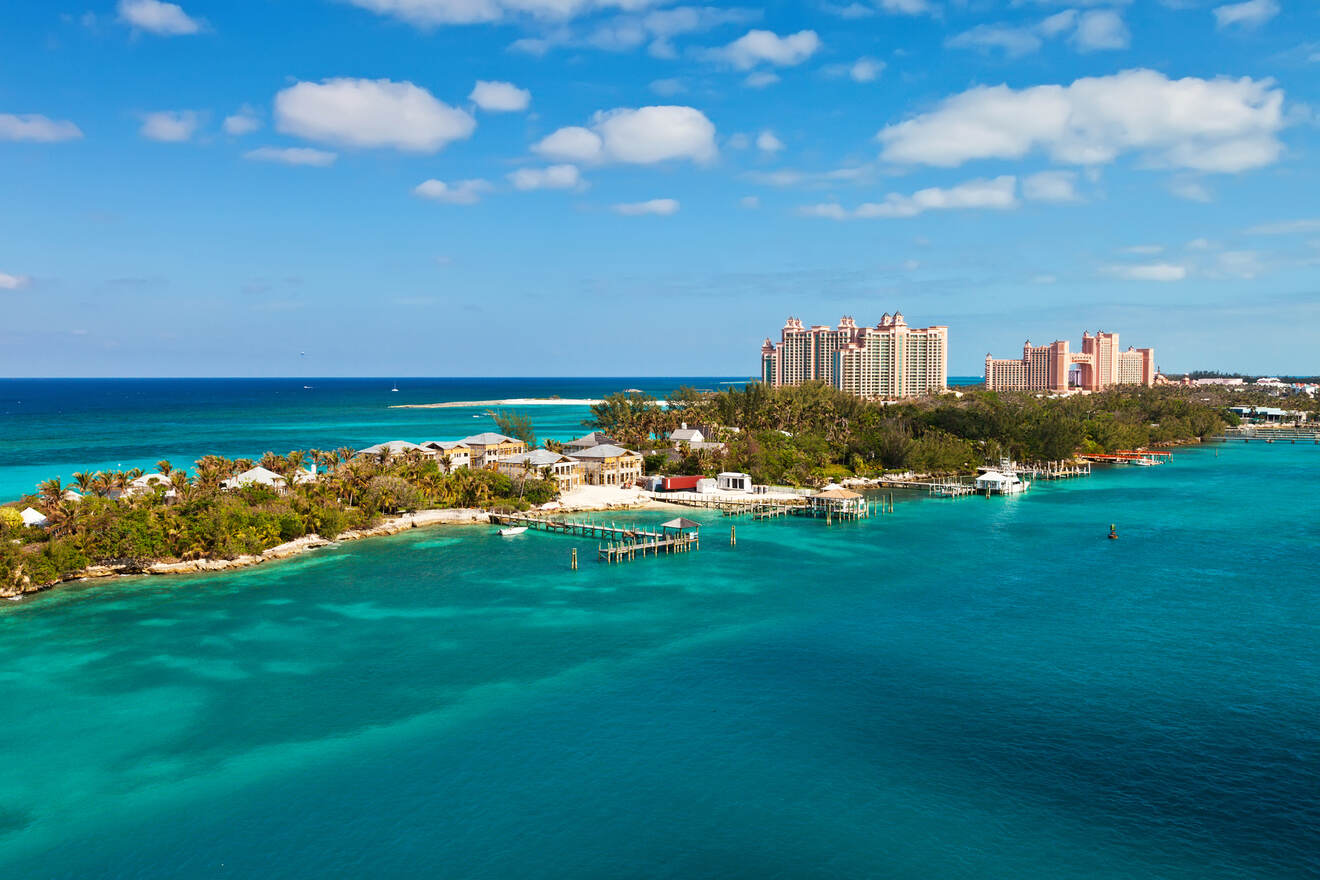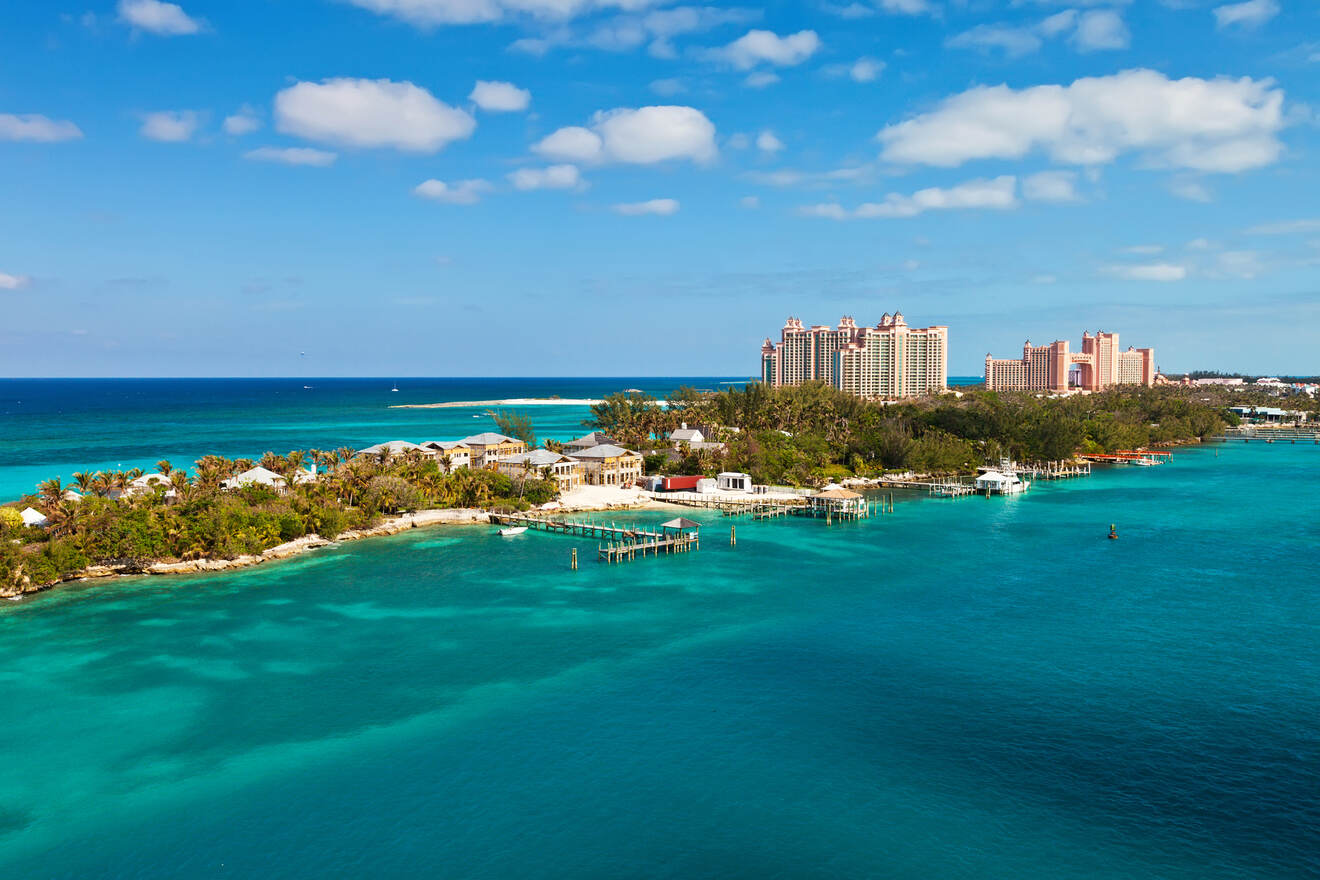 Nassau, New Providence, is a dreamy island destination that entices tourists from all corners of the world. You can find famous hotels like the Atlantis Resort on Paradise Island at this tropical getaway in the Bahamas. But if resorts aren't for you, and you'd rather book a stellar Airbnb that's just as spectacular, I have got you covered!
The capital of New Providence, Nassau, is just one gorgeous beach strip after another. If you like snorkeling, diving, and swimming, this place will be like heaven on earth to you. If you're in the market for a private room, a big house, or anything in between, this post is for you.
I've scoured the list of Airbnbs in Nassau for some next-level listings to help you find the ideal place to stay. Luckily, Nassau, New Providence, makes this easy with tons of incredible Airbnbs to choose from.
If You Are in a Hurry: Top 4 Nassau Airbnbs
If you're looking for a quick-fix to your Airbnb hunt, check out the apartments below. They are organized by price from most to least expensive to help you stay within your budget. You can traverse New Providence in less than an hour by car. So, don't worry about staying close to the center.
12 Best Airbnbs in Nassau
I've compiled a list of the best Airbnbs in Nassau, organized from most to least expensive. There's a bit of everything, from private rooms in quiet neighborhoods to massive houses in the heart of the city. By the way, I've calculated the average nightly fee taking service and cleaning fees into account so you don't have to!
Pssst – if you want to know more about where to stay in the Bahamas (Best hotels + Airbnb included), then check out this post!
1. Luxurious Estate with Chef – Best for a Group Vacation
Location: Montague Heights (North-east Nassau)
Price: From US$1000 per night
Bedrooms: 5
Guests: 14
Built in the mid-1900s, this Luxurious Estate Airbnb is classy but cool. While the front of the house is stately and old-school, you'll find modern amenities and sleek decor inside the house.
Perfect for a group getaway, every bedroom has an en suite in this spacious Airbnb. You'll also find a pool, ideal for a balmy Bahamian afternoon.
There is a poolside restaurant just walking distance from your front door where you can enjoy some good food. You can even request the restaurant deliver your meals to your Airbnb! There might not be a complimentary car rental included, but you can use the inexpensive shuttle service for all your travel needs.
2. Snorkeling Paradise, with Infinity Pool – On Private Beachfront
Location: Old Towne Sandyport (North Nassau)
Price: From US$750 per night
Bedrooms: 5
Guests: 16
Perched in front of the Nassau shoreline, this Airbnb has unforgettable sea views and its own private beachfront. Walk out into the backyard and straight onto the beach at this Bahamian paradise.
When you're not in the private pool or chatting around the fire pit, head to the rooftop terrace for panoramic island views. Or check out the local rock pools a short walk away from this spectacular Airbnb. You can book snorkeling adventures and a boat charter in-house thanks to your Airbnb hosts.
3. Affordable Paradise Island Villa
Location: Paradise Island (North Nassau)
Price: From US$460 per night
Bedrooms: 2
Guests: 5
You'll find this cozy and comfortable Airbnb just walking distance from the famous Atlantis Resort on Paradise Island. This is a great spot to stay if you want to access the attractions of the resort without staying there.
The decor exudes beach living, with rustic, bohemian decor and pool access to boot. Bathe in the warm Nassau sunlight or chill out under the palm trees at the idyllic vacation spot for beach bums.
The Airbnb comes with two bicycles you can use to explore Paradise Island – trust me, this tropical island is the stuff of dreams. Visit Marina Village for yummy seafood or catch a tan at Cabbage Beach just five minutes away.
4. Stunning Condo in the Heart of Cable Beach
Price: US$285 per night
Bedrooms: 2
Guest: 4
Cozy and homey, this stunning condo in Nassau is a perfect place for a vacation for couples and families. Location-wise, it's close to restaurants, supermarkets, beaches, and more.
You'll find everything you need in this tastefully decorated house, including a stunning terrace where you can relax at the end of the day or sip your morning coffee. And if you're a digital nomad, this place is heaven for you as the internet connection is strong.
4. Elegant Island Living
Location: Old Fort Bay (West Nassau)
Price: From US$270 per night
Bedrooms: 1
Guests: 3
This stunning Airbnb truly lives up to its name. Expect all the elegance of a hotel combined with every home-comfort, to make for an unforgettable stay in Nassau. There is a lush shaded lawn where you can unwind and enjoy a picnic with your travel partner, as well as a huge pool you can cool off in.
You'll have the entire guest suite to yourself. For couples looking for a romantic getaway, the Elegant Island Living listing is a top-tier choice. You'll be within walking distance of the beach in this quiet, upscale neighborhood.
6. Private and Safe Studio – Stylish Beach Cottage for Couples
Location: West Nassau
Price: From US$200 per night
Bedrooms: 1
Guests: 2
This open-plan, one-bedroom cottage has a super stylish kitchen and sleek finishes where you'll feel like you're living in a magazine. The vaulted ceilings make the already spacious room feel even bigger, and there's a fruit forest right in front of the property!
Stroll through the forest and pluck a banana, coconut, or papaya from the trees. This will only make your vacation feel more tropical. Step through the garden gate and greet Coral Harbour, a private beach where you can take in the beautiful sunshine the island has to offer.
This humble cottage Airbnb has a stylish design, and you can't beat the convenience of being steps away from the ocean.
7. Beautiful Pool House Oasis
Location: Maura's Creek (East Nassau)
Price: From US$190 per night
Bedrooms: 2
Guests: 4
This colorful pool house has everything you need for a cozy stay, including modern amenities, a fully-equipped kitchen, and a thoughtful welcoming package! You'll share the bar area with the hosts living in the front house, but the apartment itself is private.
There's a large pool in the common area right next to your apartment. Whip up some cocktails, dip your feet in the water, and enjoy a pleasant afternoon at home.
Local attractions and eateries will keep you entertained when you're not splashing in the pool. And of course, the beach is just a quick drive away too!
8. Serene Downtown Artist Loft
Location: Downtown Nassau (South of Arawak Cay)
Price: From US$170 per night
Bedrooms: 1
Guests: 3
Downtown Nassau is an eclectic neighborhood filled with bars and restaurants. The National Gallery is minutes away from your Airbnb, as well as the market where you can shop for local produce. If it's a bohemian vibe you're after, this Airbnb is the perfect place for you.
The beach is also a walkable distance from the property, though you may be tempted to stay indoors one day at this chic Airbnb Nassau. There are modern amenities and a lovely porch where you crack open a cold one and wind down for the evening.
There's a great common courtyard where you can relax. But don't worry, you'll have the entire apartment all to yourself. This Airbnb is the best place to get to know the culture and history of Nassau. There are loads of cultural attractions in the area.
9. The Candy Studio at Love Beach – Great for Couples on a Budget
Location: Palm Shores (West Nassau)
Price: From US$160 per night
Bedrooms: 1
Guests: 2
What a precious space. Everything at this Airbnb is doused in bright colors that are sure to cheer you up – although Nassau does a great job at that already. One cool feature is the swing-chair, which would be a sweet spot to dig into a good book.
You'll be close to Orange Hill Beach and Love Beach, one of Nassau's most famous snorkeling spots. Expect stunning white sand and coral reef just a few yards out from the shore. And when you come home, you still have the breathtaking sea view to enjoy.
10. Cozy Studio Apartment – Great location
Price: US$110 per night
Bedrooms: studio
Guest: 3
Whether you're traveling for business or pleasure, visiting a family, or attending an event, this studio apartment is in a great location near popular tourist attractions, beaches, and public transportation.
You will love this private space with a neat design and furnishings. And If you want to take a break from the tourist attractions and come home to a tranquil space, there's a spacious yard with flowers and a vegetable garden.
11. Historic Nassau – For the Solo Traveller
Location: Retirement Subdivision (North Nassau)
Price: From US$100 per night
Bedrooms: Studio
Guests: 2
You can walk to Paradise Island from this Airbnb! Why not take a stroll to Atlantis Resort for your morning coffee? Consider this apartment if you'd like to be close to some popular Nassau restaurants. Contrary to the name Retirement Subdivision, this neighborhood has loads to offer.
Solo travelers will find this cute, private space well-suited to their needs. Come home after a long day of exploring to unwind in this comfortable Nassau spot.
The decor is light and white, and there's a small kitchenette where you can cook some basic meals. The bed here is super comfy, too.
12. Rustic Elegance Suite – Budget Room
Location: Coral Heights (West Nassau)
Price: From US$90 per night
Bedrooms: 1
Guests: 2
Nestled away in a quiet neighborhood, the Rustic Elegance Suite offers a private room in a tranquil setting. If you'd rather not run into other 'Airbnbers', you can opt to book the additional private room on offer, too.
Your room has a snug king-sized bed as well as a small microwave and fridge for some light night snacking. My favorite part? The complimentary bottle of wine!
The decor is modern and fresh, perfect for a comfortable night's sleep. You can drive to the beach from this sweet Airbnb. And the host will be happy to give you tips on cool spots to visit.
BONUS: Unusual Airbnbs in Nassau, Bahamas
Nassau, New Providence, is already such a special space. But if you're looking for an original Airbnb that is set apart from the rest, check out the unusual listings below.
1. Live on the Water Charters
Price: US$4560 per night
Bedrooms: 4
Guest: 8
Experience a seaside getaway you won't forget. Snorkel, swim with rays, sharks, and even pigs aboard the AMURA II Catamaran.
There's ample room for eight people and each cabin is fully equipped with its own private suite facilities and panoramic viewing window.
The sailing experience starts in Nassau and brings you to the Islands of the Exumas. They also offer day trips for up to 15 people.
2. Camping in the Bahamas – Unique Outdoor Experience
Price: US$35 per night
Bedrooms: 1
Guest: 3
If you are up for an adventure, this camping experience in the Bahamas is a must-try. It is located in a quiet and safe place to stay, with a large porch area and a beautiful backyard with great views.
When you suddenly miss the beach, walk 5 minutes, and you'll be there. Overall, this is a great value for travelers on a budget or on a backpacking adventure.
BONUS 2: Which One to Choose – Hotel or Airbnb?
If you're struggling to decide between a hotel and an Airbnb, I've outlined some decision-making factors for you below. I have to warn you that there is no right or wrong, but I hope listing the pros and cons will help you decide what is better for YOU.
Hotel & Resort Stays: Pros
The biggest pro of staying in a hotel or resort is that they are often full-service. You'll find restaurants just an elevator ride away, room service and possibly even have meals included in the fee. Not having to take care of your own cooking is a huge bonus for many when you're on vacation.
Another pro is the possibility of having an abundance of facilities on site such as bars, swimming pools, spas, and daycare too. One last pro is that some hotels in Nassau also have a private beach, just for their guests! This usually means sparkling water and clean sandy beaches.
For instance, the famous Atlantis Resort, a huge super well known resort is an attraction by itself! It has: swimming with dolphins at Dolphin Cay, rock climbing, riding water slides and 11(!) landscaped pools, 21 restaurants, 19 bars and casino lessons! I mean, no Airbnb can beat that obviously 🙂
Hotel Stays: Cons
Let's start with the obvious one – the price. It will probably be more expensive to stay in a hotel, especially during the high season. Another con for hotels and resorts is the crowds. Hotels and resorts are popular spots to stay, so they can get busy, especially around the high season. Lastly, if you're someone who loves cooking, most hotels don't provide a kitchen. This means that you will have to spend some extra on restaurants.
Airbnb: Pros
Airbnbs are often cheaper, especially if you are traveling with a group. For the same price as a hotel room, you can usually find a nice home with much more space. This also provides more privacy for you and your group than staying at a hotel.
The extra size also means more room for amenities like a fully-equipped kitchen, which is ideal if you want to keep your costs minimal or just love cooking. (Remember you still have the option to head out to restaurants whenever you choose.)
Airbnb: Cons
Airbnbs can sometimes be off the beaten path and a fair distance away from the hottest attractions in the area. Unlike with a hotel, you won't have anyone to organize a taxi on your behalf. This can become tricky if you don't know your way around the town.
While it may be an advantage for some, other travelers don't like the idea of having to cook their own food if they stay at an Airbnb. Whilst you still have the option to go out to eat, it's unlikely that there will be any restaurants on site. Ultimately, it all comes down to what kind of vacation you want. If you have trouble choosing, why not stay in an Airbnb and purchase a day pass to Atlantis Resort to check out the other side of life? That way, you can experience the best of both worlds.
Top 4 Airbnb Nassau Experiences
If you're in the market for a memorable way to spend your vacation, I've got you covered. Below are four incredible Airbnb experiences in Nassau to keep you entertained.
Conclusion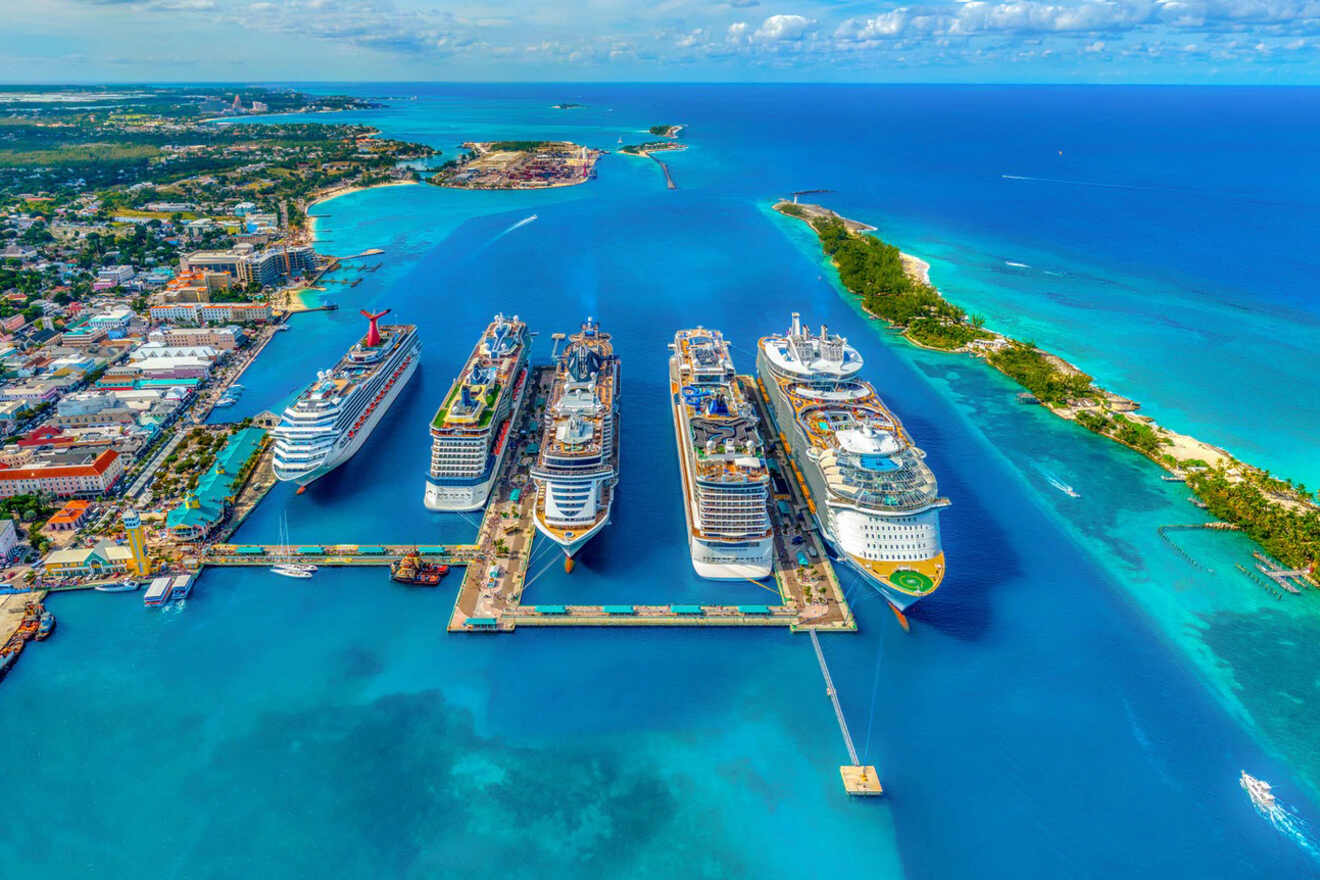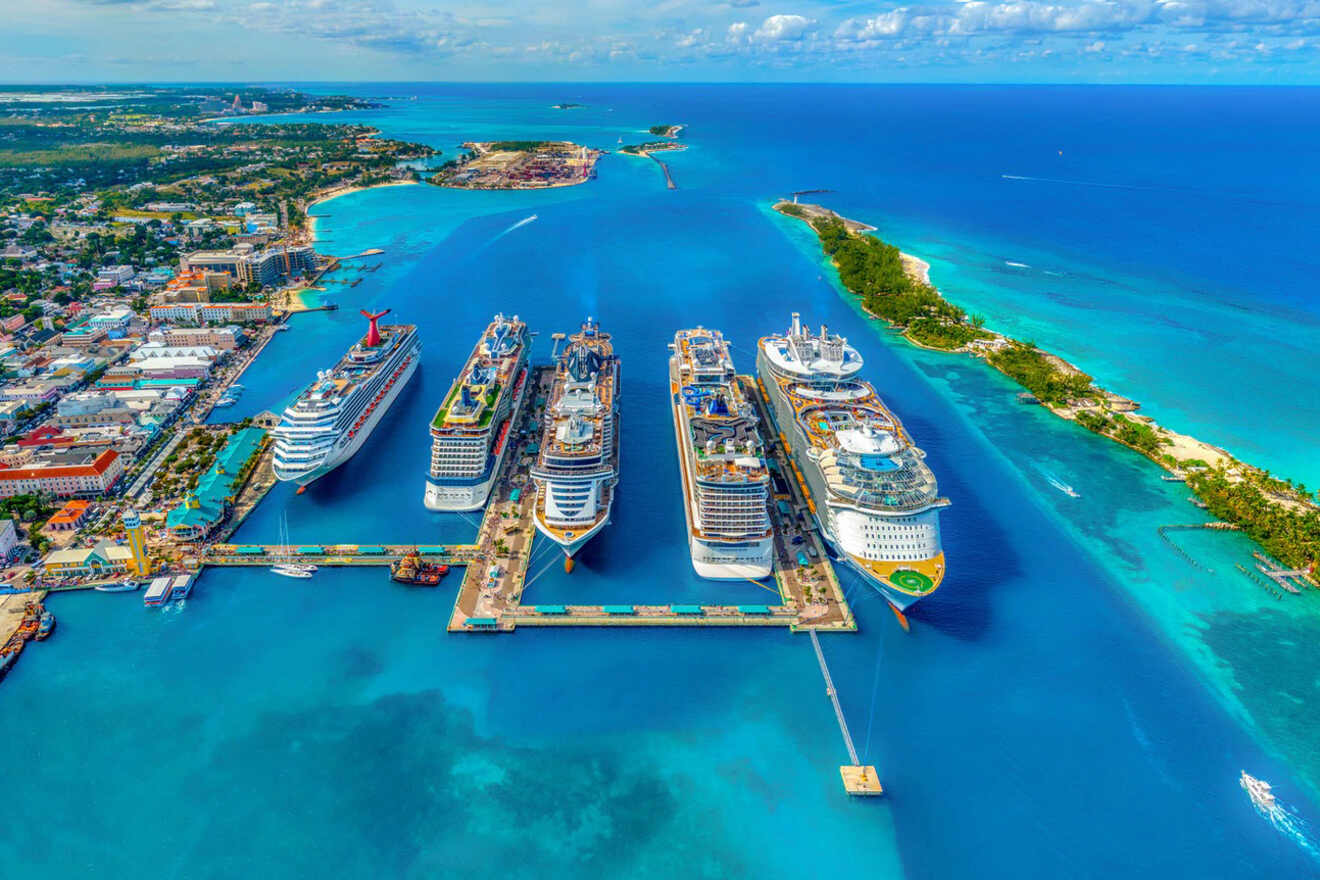 Whether you're staying in a private studio, a downtown loft, Nassau is a fantastic travel destination for anyone heading to the Bahamas. I've covered Airbnbs in a range of different prices to help you find the rental that's best-suited to you.
If you're into totally unique stays, hopefully you found something you like in the bonus section of this post. If there's a fantastic Airbnb you think I should add to my list, please let me know in the comments below.
For a balance between high-end and low-key vibes, I recommend the Affordable Paradise Island Villa. You can enjoy local fare in the area or head over to Atlantic Resort for a more posh Nassau experience.
If it's a group vacation house you're after, consider the Luxurious Estate with Chef & Shuttle. The pool here is amazing, and there's tons of room for all your friends or family.
Have an unforgettable vacation at your Airbnb. Nassau, New Providence, is the stuff of dreams, and I hope you enjoy exploring this magnificent island. Be sure to book in advance as this popular beach destination gets booked out quickly.