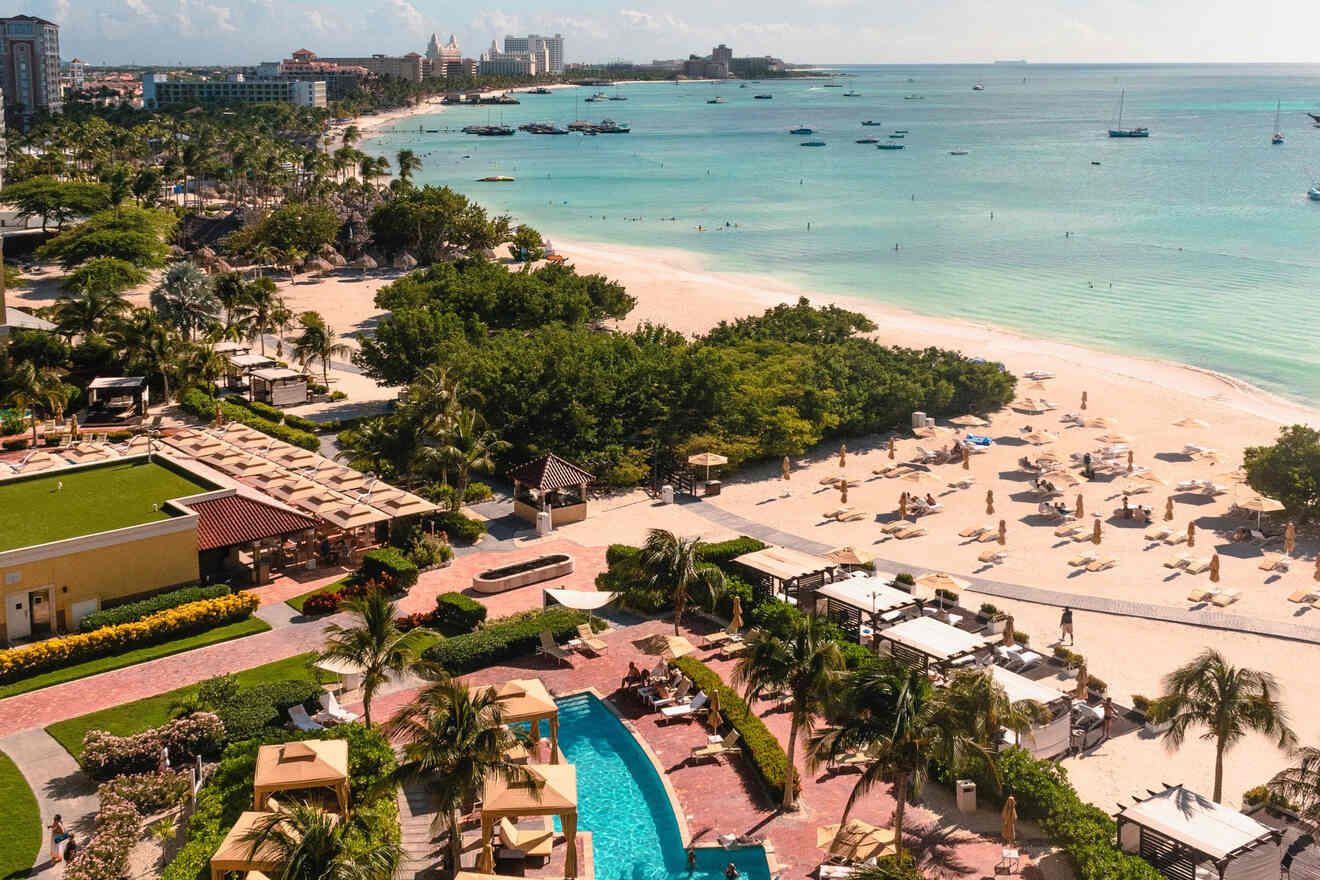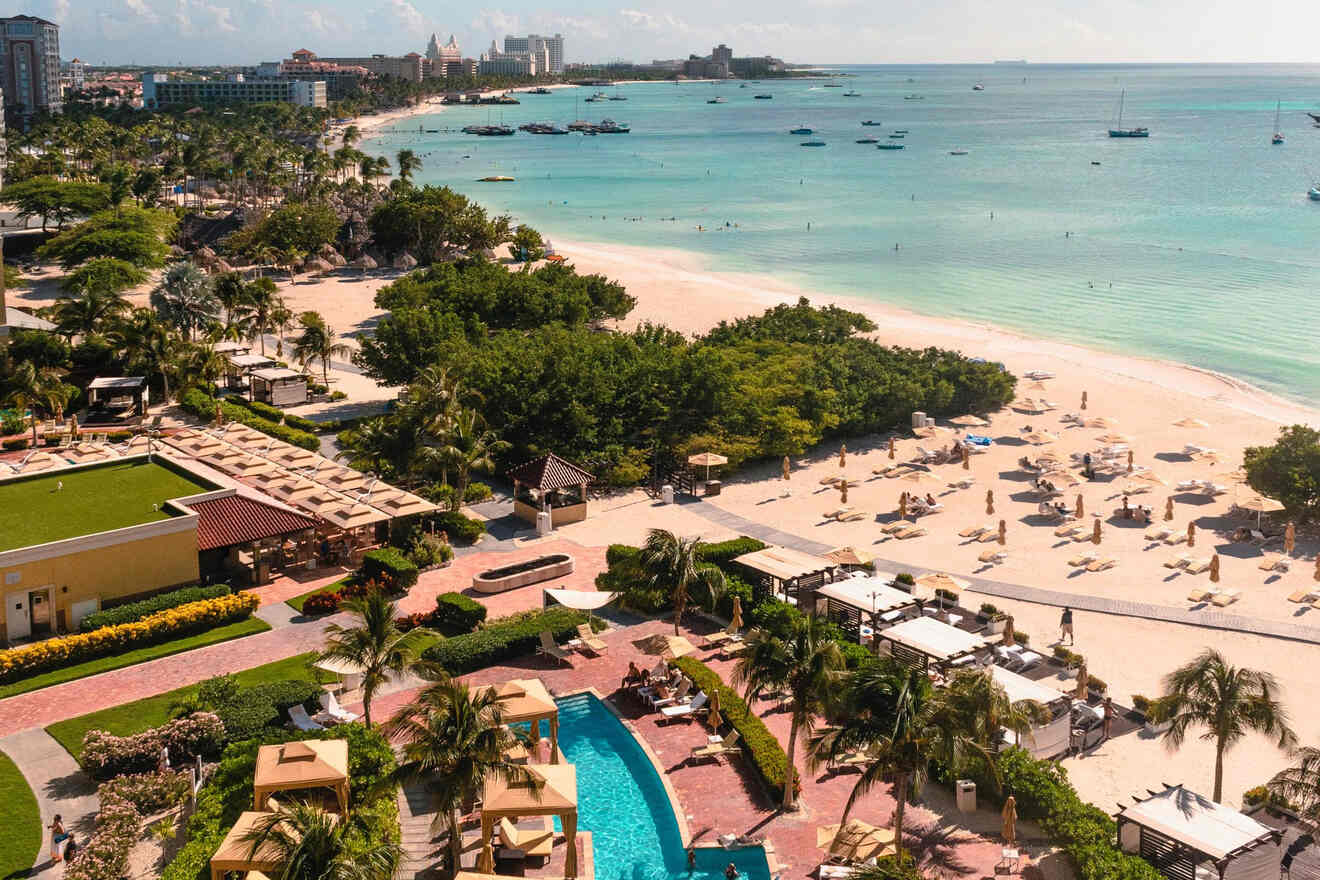 From beautiful beaches to lush tropical mangroves, Aruba is a prime location for any traveler bit by the wanderlust bug. If you're planning to check out this beautiful island in the southern Caribbean, you'll want to find a dreamy Aruba Airbnb for your home away from home.
This article will cover some of the top Airbnbs in Aruba to help you find the ideal spot for your island getaway. You can find anything from a poolside villa to a private apartment.
Whether you're chilling on a beach in Sevanata or touring monuments in Oranjestad, this island caters to many different tastes. Aruba is a small island, so fret not about where to stay. You can get from one end of Aruba to another in just an hour-long car trip.
Expect year-round sunny weather, constant cool trade winds, and magnificent beaches hugging the clear blue Caribbean waters. Aruba is a well-liked destination known to appear on lists of best beach destinations in the world. I've put together the top selections of Airbnbs in Aruba so that you can have a carefree vacation in this magical destination.
If You Are in a Hurry: Top 4 Airbnbs in Aruba
For a quick-fix to your Airbnb hunt, choose from one of the listings below. These are organized from most to least expensive to help you find something that suits your budget:
11 Best Airbnb Rentals in Aruba
Whether it's for a family getaway or a couples island retreat, this list should help you find an ideal Airbnb. Aruba has plenty to offer from Oranjestad to Sevanata, and I've listed some impeccable options for you to choose from below. The Airbnbs are organized from highest to lowest price per night, and I've taken cleaning and service fees into account, too.
Without further ado, here are some fantastic Airbnbs in Aruba:
1. Private Luxury Beachfront Villa in the Colony – Best View
Price: US$625 per night
Bedrooms: 3
Guest: 8
A perfect place to escape reality with its relaxed and luxurious atmosphere. This beachfront villa is proudly designed by one of Aruba's finest interior designers; art lovers or not, you will surely appreciate it.
You can arrange to have a private masseur come for a massage or enjoy a manicure or pedicure by the beach, whichever you like.
Enjoy your time at the exclusive beach or take a boat charter to explore the open seas. And if you plan to celebrate any special event at the villa, just let the host know so they can make it extra special for you!
2. Zentasy Private Villa & Pool – Close to the Beach
Location: Noord
Price: From US$500 per night
Bedrooms: 4
Guests: 8
This spacious Airbnb has impeccable decor. You'll find modern finishings and a decadent outdoor space perfect for a stylish stay. I recommend calling shotgun on the king bedroom overlooking the pool, but each room is cozy and comfortable.
The outdoor area also has a shaded terrace, in-pool loungers, and a kitchen and bar area. Top it off with purple lighting and you've got yourself an entertainment space like something out of a music video.
Just a two-minute walk from the beach, Zentasy Villa is the best Airbnb if you're looking for sunset views. Head up to the roof terrace to check out the swaying palm trees along the shoreline of Aruba.
3. Casa Palmera Aruba Hideaway – Best Beachfront Airbnb
Location: Savaneta
Price: From US$370 per night
Bedrooms: 2
Guests: 4
Rustic and tranquil, beach lovers will adore this charming house with its very own beachfront. Walk from your private deck onto the sand, and take the romantic walkway through the mangroves to the marine park. You could also drive twenty minutes to Baby Beach – famous for its calm waters.
You'll have your own small pool on the deck to enjoy, and there's a super romantic bungalow bed on the sand outside. If you want the beach in your backyard away from the crowds, this Airbnb is for you.
When you're not relaxing in the stylish living room or venturing into the water, you can take a five-minute drive to the popular Zeerovers for ice-cold beer and delicious seafood.
4. Charming and Modern Noord Home – Best for Families
Location: Noord
Price: From US$310 per night
Bedrooms: 3
Guests: 8
This Airbnb is tucked between Palm Beach and Eagle Beach, so you'll be perfectly located to enjoy the best of Aruba. This house has just been remodeled, making guests feel like they're walking straight into a magazine. Kick back in the living room or whip up a good meal in the fully-equipped kitchen.
You can chill under the pergola during the day or cook up a storm with the outdoor barbecue. The sunny deck is also a great space to enjoy your morning coffee.
On those especially hot summer afternoons, you'll love being able to dip in the private pool. Another bonus is the air conditioning, which will definitely help you get a good night's sleep on those humid Aruba nights.
5. Lovely Sea View in Eagle Beach – Studio Apartment for Couples
Location: Oranjestad
Price: From US$250 per night
Bedrooms: 1
Guests: 2
Oranjestad is a great place to learn about Aruba, and this Airbnb has rave reviews. Expect an open-plan studio room as well as all the amenities you need for a comfortable stay. Located within walking distance from Eagle Beach, this spot offers ideal convenience.
The apartment has wonderful ocean views, and every night you spend here, you'll be lulled to sleep by a cool Aruba breeze. The decor is light and cheerful with fun pops of color throughout the apartment. Sip on a glass of white wine on the gorgeous terrace and enjoy one of Oranjestad's loveliest gems.
6. Penthouse Suite Modern Hotel – Honeymooner's Paradise
Location: Noord
Price: From US$210 per night
Bedrooms: 1
Guests: 2
This stunning penthouse suite won the prestigious 2019 Travelers' Choice Award from Tripadvisor, and I can see why! The pristine pastel palette of the decor only adds to the listing's spectacular views, making for a tranquil Airbnb that's bound to get you in a relaxing mood.
The vaulted ceilings and hardwood floors are utterly tasteful, as is every design element in this immaculate penthouse home. Expect brilliant sunset views each evening, made all the more sweet by the tropical palm trees lining the horizon.
You're a mere five-minute walk from Palm Beach at this apartment, and there's a great pool in the building where you can cool off once you come home.
7. Private Villa with Pool – 5 Minutes from the Beach
Location: Noord
Price: From US$200 per night
Bedrooms: 2
Guests: 6
A five-minute drive from Palm Beach, and ten minutes from Boca Catalina (Malmok Beach), this private villa combines convenience and comfort. When you're not exploring nearby attractions, you can enjoy a home-cooked meal in this kitted-out kitchen. The dining table has room for six to share good conversation and food.
Outside, you'll find a delightful patio area, as well as a plunge pool to cool off in. You'll have the entire villa to yourselves and the best beaches and restaurants just minutes away from this convenient tropical location.
8. Palm Beach – New Studio Great for Solo Travellers
Location: Noord
Price: From US$150 per night
Bedrooms: 1
Guests: 2
If you're traveling on your own, you may have found your match with this chic studio apartment. The beach is just minutes away from this Airbnb, and that's not the only convenience you'll get during your stay. The thoughtful superhost even left beach towels and beach chairs for the next special guest.
Got your heart set on a king bed? This listing has a great one – and it's got stellar reviews to prove it. If you're still not convinced, this property boasts a large swimming pool and a barbeque grill in the common area.
This sweet Airbnb offers the perfect place to stay for any solo traveler who wants to be near the best beaches.
9. A lovely suite close to the beach
Price: US$100 per night
Bedrooms: 1
Guest: 2
As the name suggests, this is a lovely place for couples and couples with children to stay. Have a good time at the pool and jacuzzi, cook for yourself or your family in the kitchenette, or grill some barbecue in the BBQ area.
You can also spend some time reading in the relaxing lounge area (with a pool view) or enjoy the sun on the sun loungers while sipping your favorite tropical drink.
10. La Casita by the Beach
Location: Bakval
Price: From US$120 per night
Bedrooms: 1
Guests: 3
Located less than a mile from the beach, this Airbnb is bound to be a memorable one for any guest. The one-bedroom loft apartment has a lovely garden, and a Zen atmosphere any vacationer will love. If you want to be near the best island attractions, this Airbnb guarantees an easy-going stay.
With a snug bed and lush palm trees in the garden, you'll adore staying at La Casita in Aruba. Inside the home, you'll find a stylish loft vibe and loads of beachy decor to add to that tropical feel.
11. Flip Flop Cozy Apartment
Location: Palm Beach
Price: From US$40 per night
Bedrooms: Studio
Guests: 2
Shared accommodations are a practical option if you're traveling on a budget, and this apartment is a good example. You'll have plenty of privacy at the Airbnb, and the guest reviews speak highly of the friendly and accommodating superhost.
If all you need is a bed and some basic amenities during your Aruba vacation, the Flip Flop Cozy Apartment might be exactly the kind of simple (and affordable) listing you're looking for. Booking a private room with common areas is a great way to meet other tourists during your stay.
BONUS: 3 Unusual Airbnbs in Aruba
It's tough choosing the best Airbnb Aruba has to offer, so why not narrow your scope? For unique vacation rentals loaded with fun and flair, take a look at the three unusual Airbnbs below.
1. Exclusive Airstream with Private Pool & Ocean View
Location: Paradera
Price: From US$300 per night
Bedrooms: 2
Guests: 4
How many of us can say we've stayed in an Airstream with its own swimming pool? This Airbnb is super original, and you'll have plenty of peace and quiet in this private stay. See unobstructed sunrise views and enjoy a poolside breakfast at the outdoor dining table. Your Airstream may be compact, but it's got a fully equipped kitchen for all your needs.
The outdoor shower courtesy of your superhost adds a special touch to this picturesque listing. If it's an escape from routine life you're after, this Airbnb in a fairly remote valley is the perfect place to de-stress and quiet the mind.
2. Arubacations at Sandy Creek
Location: Noord
Price: From US$150 per night
Bedrooms: 2
Guests: 6
This trendy house may be tiny, but it's got a big personality thanks to the bright decor. For a compact space, the home really packs a punch. Expect a charming patio where you can bask in the Aruba sunlight, and cozy interiors perfect for a chilled-out vacation.
The floor-to-ceiling glass panels are modern and sleek, adding to the sophisticated appeal of this modern tiny home. You'll have a good night's sleep in the comfy bedroom, and don't forget to take a soak in the lovely tub!
P.S. You're a mere five-minute drive from Palm Beach at this cool Airbnb.
3. "La Casita Aruba" Tiny House Close to the Sea
Location: Savaneta
Price: From US$80 per night
Bedrooms: 2
Guests: 2
Another cool tiny house in Aruba, La Casita has a lush tropical vibe that will make you feel like you've lived on the island forever. Each room is comfortable and cozy, and the Airbnb is located in the perfect area to get away from the crowds.
The place has a small kitchen and all the amenities you need for your trip. There are also oceanside restaurants walking distance from this Airbnb where you can grab one heck of a seafood meal.
If it's an affordable place you're after, the great location of this spot makes it a more than reasonable Airbnb for those traveling on a tight budget.
Top 4 Airbnb Aruba Experiences
If you're looking for a cool activity to keep you occupied during your trip to Aruba, check out the incredible Airbnb experiences below.
Conclusion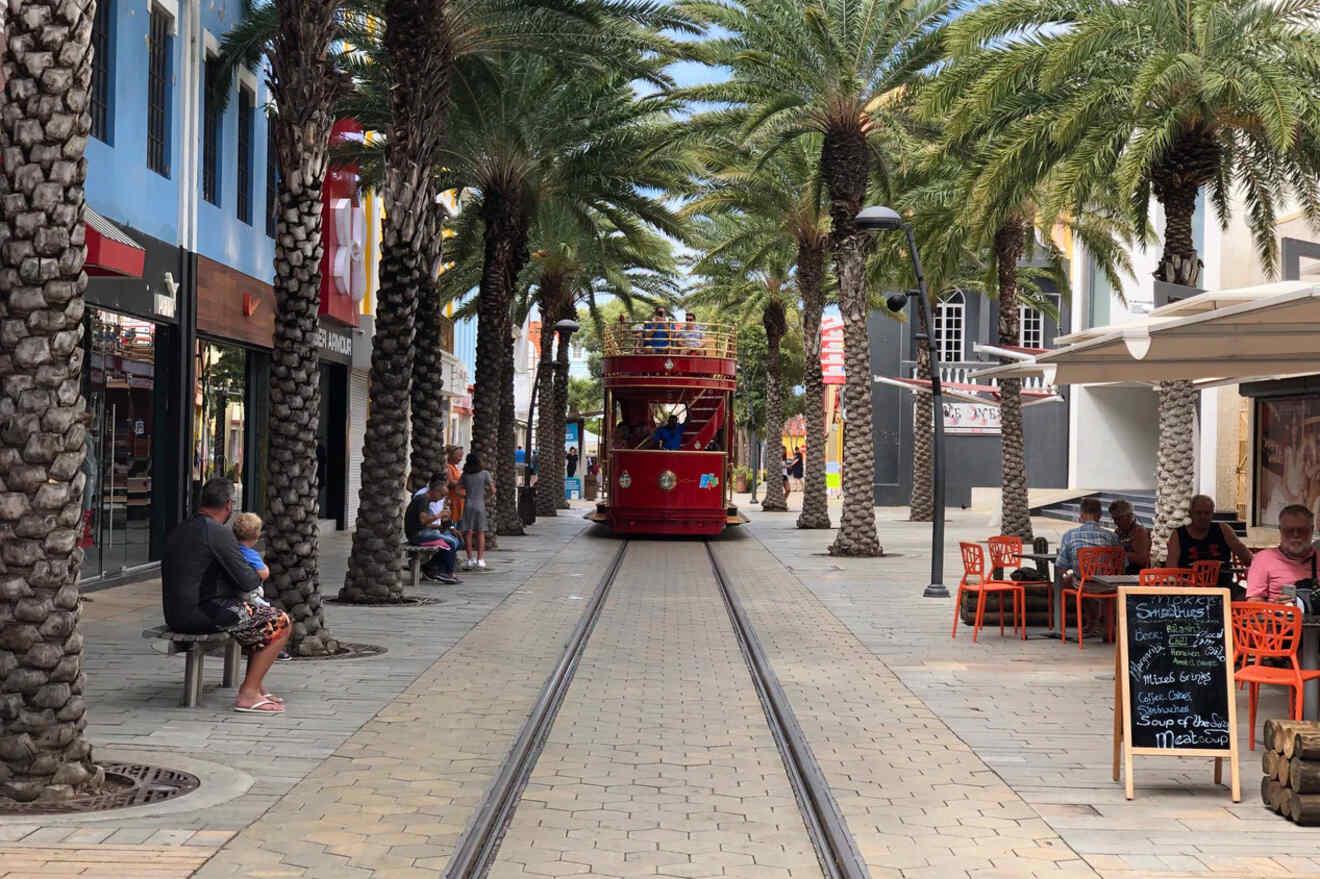 Hope you liked my carefully selected list guys! I've covered the best Airbnbs in Aruba at a range of different prices to help you find the perfect spot that suits your budget. I tried to include great airbnbs that only have amazing reviews, most of them are located in the popular area of Aruba so it is easy for you to get to all the attractions/beaches.
There are some great unique Airbnbs in the BONUS section, too, for those tourists looking for something extra special and original. I've even covered some excellent Airbnb experiences to help you plan your Aruba itinerary.
If you want to stay in the capital of Oranjestad, I recommend the Lovely Sea View property in Oranjestad-West. You'll be close to a host of major attractions and the sunrises from this Airbnb are spectacular.
For breathtaking beach vistas, I'd choose the Zentasy Private Villa for its impeccable design.  All of the best Airbnbs fill up quickly, so book in advance to avoid disappointment. 
Whether you're staying in a villa in Oranjestad or an apartment in Sevanata, I hope you find the best Airbnb Aruba has to offer. If you don't know the area, you can read my post on where to stay in Aruba. If there's an Airbnb you think I should add to this list, please leave a comment below.
Have an unforgettable stay in Aruba, and enjoy every minute!